This post may contain affiliate links, meaning if you book or buy something through one of these links, we may earn an affiliate commission at no additional cost to you. Learn more
Planning a vacation to the slopes? Our ski trip packing list gives you a comprehensive checklist of everything you need to travel and enjoy your time skiing in a smart, safe, and stylish way.
Complete with 60 essentials, and with plenty of room to add your own items, this downloadable checklist can help assure that everything is accounted for, and nothing is forgotten.
Scroll to the end of this article to download it in PDF format for free, and get ready to revolutionize the way you plan your ski trip!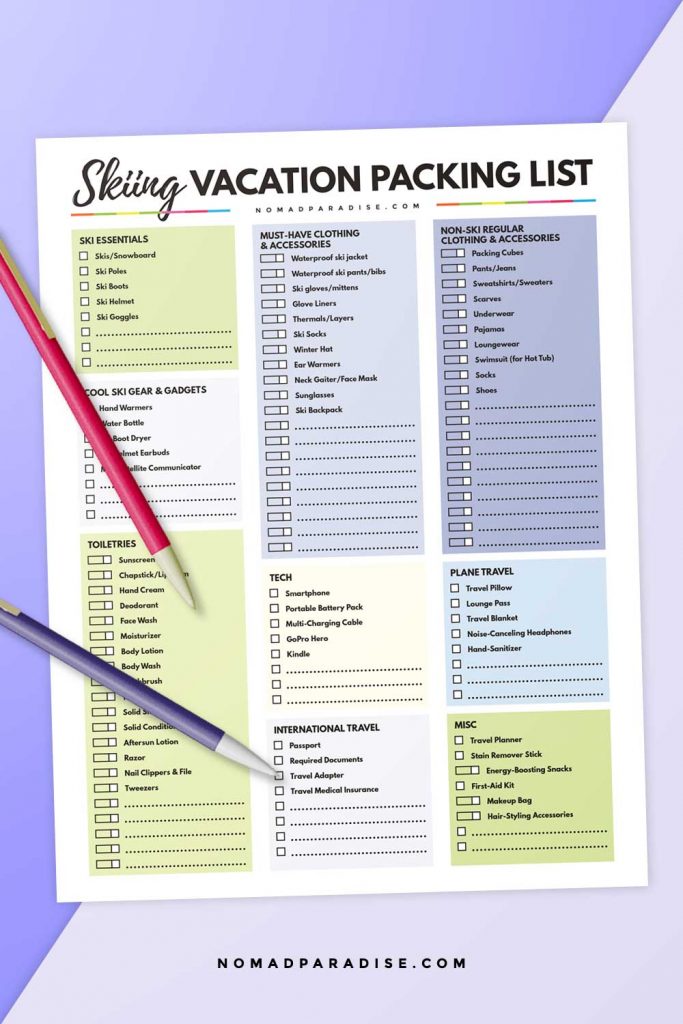 Ski Trip Packing List
Open up your suitcase, grab a hot coffee or a glass of wine, and let's streamline your skiing packing. That way, you can focus more time and energy on looking forward to your snow-capped, adrenaline-fuelled vacation on the beautiful slopes.
Ski Essentials/Equipment
If you're a beginner, you may prefer renting skis and ski poles from the resort or a rental shop, rather than purchasing them. The same may go for ski boots if you can find something comfortable.
Otherwise, even as a beginner, you should consider going to a specialized shop and buying a very comfortable pair of ski boots.
For the ski helmet, I would personally recommend purchasing rather than renting. Buying the ski helmet may often be not a lot more than renting it for a week.
However you get your essential skiing gear, be sure you account for the following items. Without these, you won't be able to hit the slopes.
1. Skis / Snowboard
2. Ski poles
3. Ski boots
4. Ski helmet
5. Ski goggles
Must-Have Ski Clothing & Accessories
Skiing holidays are so much fun, but the cold conditions should never be underestimated. Keeping warm, dry, and safe should be a top priority when out on the slopes.
These ski clothes and accessories everyone should take with them. That way, you can hit the slopes with peace of mind that you're protected from the elements and the conditions.
6. Waterproof ski jacket
7. Waterproof ski pants/ski bibs
8. Ski gloves/mittens and glove liners
9. Thermal clothing/layers
10. Ski socks
11. Winter hat
12. Ear warmers
13. Neck gaiter/balaclava/face mask
14. Sunglasses
15. Ski backpack
Cool Ski Gear & Gadgets
Want to take your skiing experience up a level or two? Give these cool ski gadgets and nifty gear a try, to make skiing a more enjoyable experience.
16. Hand warmers
17. Water bottle
18. Air boot dryer
19. Ski helmet earbuds
20. Mini satellite communicator/transceiver
Read more: Cool Gadgets, Gear, and Gifts for Skiers and Snowboarders
Non-Ski Regular Clothing & Accessories
While skiing is a specialized activity, it's always still a vacation. You still need to pack for a vacation, on top of the skiing equipment and gear you need.
With all the focus on your skiing attire, it can be very easy to forget some of your beloved and trusted clothing and accessories.
After a long day on the slopes, the last thing you want is to do is go to relax in the warmth of your apartment or cabin, only to find you've forgotten your pajamas or comfy socks.
Use this section to pack your non-skiing clothing and accessories, and remember to double up on some items. In cold weather, when clothes can easily get wet, it's always good to have more layers and extra items.
21. Packing cubes
22. Pants/jeans
23. Sweatshirts/sweaters
24. Scarves
25. Underwear
26. Pajamas
27. Loungewear
28. Swimsuit (for the hot tub)
29. Socks
30. Shoes
Toiletries
When packing toiletries, it can be very easy to forget essentials. Your toiletries need to cover items both for hygiene and personal use, and things you'll need out on the slope, such as sunscreen and moisturizer.
Use our list, along with a spacious, sturdy bag, to make sure nothing important is left in the bathroom cabinet before you head out on the road, or to the airport.
31. Sunscreen
32. Chapstick / lip balm
33. Hand cream
34. Deodorant
35. Face wash & moisturizer
36. Body lotion
37. Body wash
38. Toothbrush & toothpaste
39. Solid shampoo and conditioner
40. Aftersun lotion
Tech
There's plenty of great tech to pack not only for personal use but also to capture the skiing experience. Make sure both your slope time and down time are accounted for with these great gadgets, cameras, and accessories to take on your travels.
41. Smartphone
42. Portable battery pack
43. Multi-charging cable
44. GoPro Hero (for all the action shots)
45. Kindle
Plane Travel
If you're not traveling by car and a long flight awaits you, the last thing you want is to feel tired and agitated when you arrive at the slopes.
Help your flight run smoothly and comfortably with these great plane travel accessories to pack. That way, when you arrive, feeling energized and relatively well-rested, you don't have to waste a day or two recovering from jetlag or any illness.
46. Travel pillow
47. Lounge pass
48. Travel blanket
49. Noise-canceling headphones
50. Hand-sanitizer
Read more: Cool travel gadgets and accessories to pack
International travel
If you're going abroad, being organized and informed before you board your flight can save you a lot of complications further down the road.
Make sure you run through all the necessary documents needed to travel to the country you're going to. Once you have those, be sure to pack everything on this list, to help assure your trip abroad runs smoothly, without hiccups.
51. Passport
52. All required docs (visa, vaccine/test certificate, booking confirmations, etc)
53. Travel adapter
54. Travel medical insurance
Miscellaneous
With your essentials and trip-specifics packed, there's always room for a few more accessories and items that will make your trip more comfortable or enjoyable.
Use our list of miscellaneous items to cover planning, first aid, and other areas. If you download our packing list printable, there's room for you to add your own items too.
56. Stain remover stick
57. Energy-boosting snacks
58. First-aid kit
59. Makeup bag
60. Hair styling accessories
Ski Trip Packing List Summary
Never leave your ski trip packing to the last minute. Skiing holidays are amazing fun, but forgetting even a couple of key essentials of winter clothing can be the difference between a memorable vacation, or days spent desperately searching in nearby shops and supermarkets for core items.
Don't take that risk. Particularly as many slopes are in mountainous areas, ski resorts, and smaller villages, the chances of finding large malls and particular items are very slim.
Plan ahead, and pack with confidence. Cover all your bases, take more clothes than you think you need, and that way you can ski and enjoy your vacation in a safe, comfortable way. Your ski holiday packing list should cover as many bases as possible, and then some.
Download List Here
You Might Also Like to Read
Save and Pin for Later
Keep our ultimate ski trip packing list, complete with downloadable PDF, ready for your next ski vacation, by saving it to one of your Pinterest boards.
Author: Dale Johnson is a content writer and strategist who has traveled to 30 countries and counting to date.