This post may contain affiliate links, meaning if you book or buy something through one of these links, we may earn an affiliate commission at no additional cost to you. Learn more
Planning a fun and adventurous weekend getaway? Our weekend packing list will help you pack smartly, safely, and to cover all bases, while not packing any unnecessary items.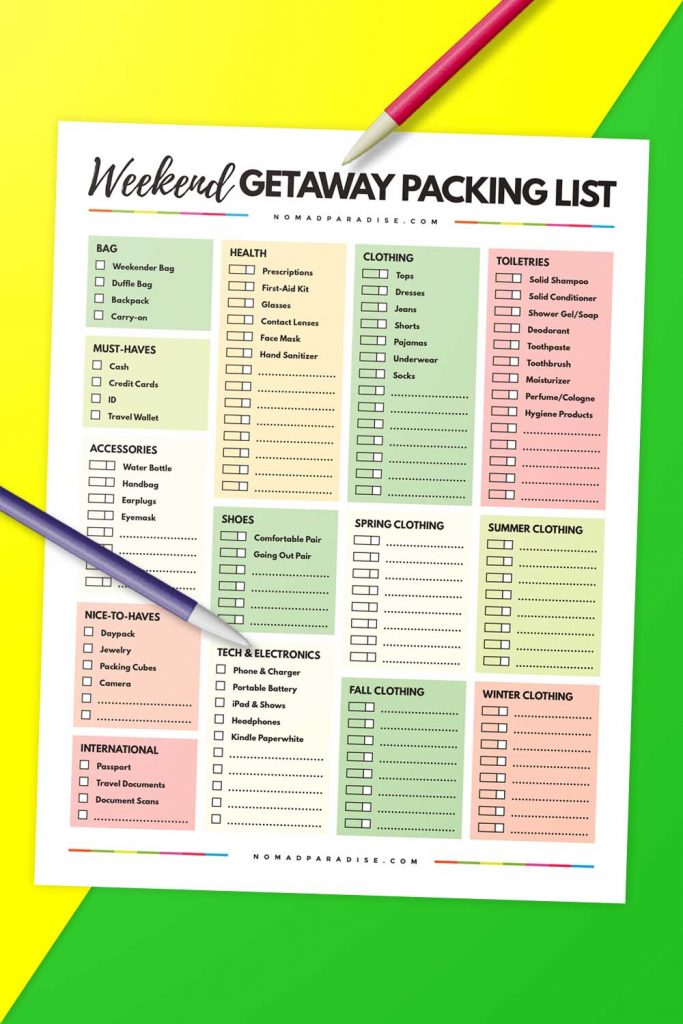 To get our stylish and comprehensive PDF downloadable checklist to print off yourself, simply scroll to the end of this article.
Ultimate Weekend Packing List
So, if you're ready to pack smart for your upcoming weekend getaway, grab yourself a hot coffee or chilled glass of wine, and let's dive into everything you need to pack for your upcoming trip.
Travel Planner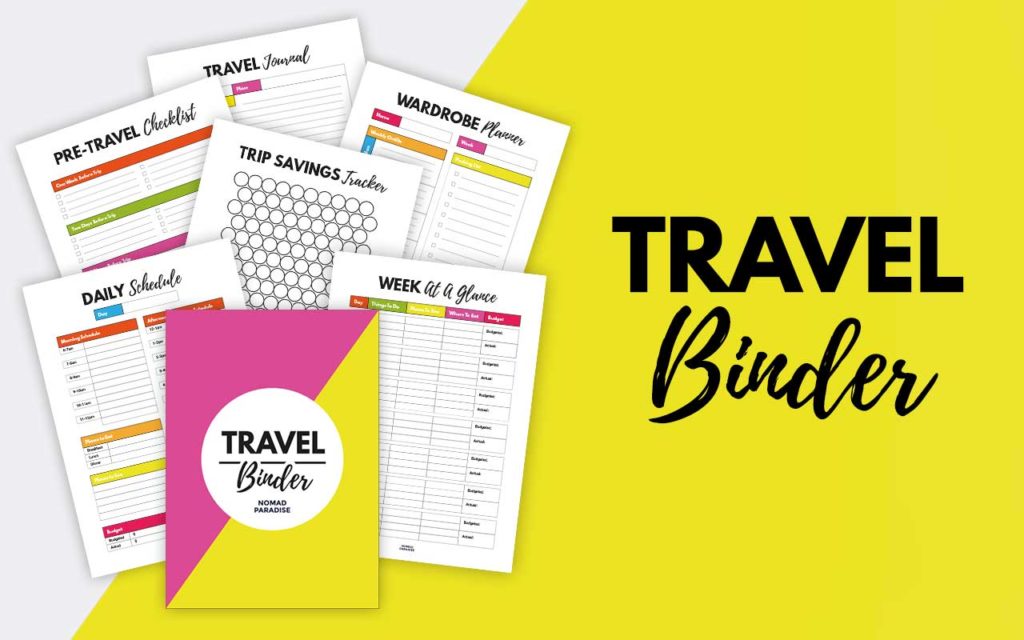 Got a loaded itinerary? Trying to save for your upcoming trip? No matter how short or long, nearby or faraway your weekend trip may be, a little preparation and planning always go a long way to helping your trip run smoothly.
Our travel binder, complete with over 30 pages, can aid you in planning, organizing, and shaping a future trip, no matter where, when, or what it is.
Read more about the travel planner printable here, and get ready to revolutionize the way you pack for a weekend and prepare for all your upcoming trips!
The Bag
We start the preparation for your weekend away with your trusted bag. Generally, for a trip only lasting 1-2 days, you can get away with packing everything into one bag.
Unless you require large or specialized equipment, you should look to make your luggage as compact as possible. Whether you like the style of a duffle bag or the multi-purpose layout of a backpack, your bag should be the first place you start.
Multiple options you can consider:
Weekender bag
Duffle bag
Backpack
Carry-on
The Must-Have's
No matter what your weekend getaway looks like, there are certain things you should always travel with. These must-have's should come with you on your trip:
Cash
Credit cards
ID
Travel wallet
Basic List (Clothing & Shoes)
When packing for a weekend, it's good to still have several outfits for different scenarios. You may be hiking in the afternoon, but then going out for drinks in the evening.
Depending on your trip, try to bring both casual and going-out clothes. If you're spending time outside, be sure to wear proper equipment. Sometimes, you may feel like you can hike in casual shoes, rather than hiking boots or sneakers.
This clothing list gives you a good starting point for a weekend vacation:
1-2 dresses
1 pair of jeans
1 pair of shorts
2 tops
1 cardigan
1 pair of comfortable shoes (such as flats)
1 pair of going-out shoes
Pajamas
Underwear
Socks
Optional Nice-to-Have
If there's space, these accessories are great to have on hand. You may end up going on a separate day trip, or end up going out to a fancy restaurant or bar, without originally planning to.
Here are some optional nice-to-have items to pack, if you can find the space:
Daypack
Packing cubes
Jewelry
Camera
Read more:
Seasonal Clothing & Accessories
What time of year it is, and the weather, will play a big role in the types of clothes you need to pack.
Below we've listed some recommended clothing and accessories for the four seasons that you should without a doubt be packing, no matter what your weekend trip looks like:
Winter (warm hat, gloves, scarf, leggings, sweater, winter coat, boots, umbrella)
Fall (scarf, leggings, jacket, waterproof shoes, umbrella)
Spring (sunglasses, light jacket, or cardigan)
Summer (swimsuit, sunglasses, waterproof phone case, beach bag, beach accessories)
Related:
Accessories
For both comfort and/or pleasure, remember to pack the following accessories with you for your upcoming trip:
Water bottle (with optional water filter)
Handbag (for going out)
Earplugs
Eye mask
Read more: Best Water Filters for Travel
Electronics & Gadgets
Whether heading out for a cozy weekend in a cabin or gearing up for an all-action weekend adventure, your tech is a very important part of your trip.
Whether for entertainment, logistics, or safety, be sure to pack your tech securely, make sure you're insured, and remember to bring your chargers.
Here are some essential gadgets and electronics you shouldn't travel without on a weekend trip:
Smartphone
Portable battery pack or phone charger
iPad (with pre-downloaded movies and shows)
Noise-canceling headphones
Kindle Paperwhite (with pre-downloaded books)
Toiletries
While clothing you can often downsize, with a weekend trip you will largely still need to pack the same amount of toiletries as a long trip.
If anything, if you're staying at a B&B or Airbnb, you may even need more. Airbnbs often do not provide the same amenities as some hotels, including toiletries.
Be sure to do your research, and remember to pack these essential toiletries for your trip:
Solid shampoo
Solid conditioner
Solid shower gel
Deodorant
Toothbrush
Toothpaste
Moisturizer
Perfume
Pads/tampons
Makeup bag
For International Weekend Getaways
Going abroad? Along with all the other essentials in this list, be sure to pack the following items for your trip.
They may seem obvious, but sometimes with weekend getaways and last-minute trips the speed at which everything moves can mean even the most organized of travelers misplace or forget important things:
Passport
Travel docs (Covid test, vaccination certificate, etc)
Copies/scans of all important documents
Read more: Best Carry-On Essentials for a Cozy & Comfortable Flight
Health
Packing essential health items is often an overlooked part of a weekend trip. Because the stay is generally for a day or two maximum, it's very easy to dismiss worst-case scenarios and feel like everything will be okay.
But whether your trip is for a night or a month, health and safety should never be overlooked. Always be prepared, and be sure to bring the following items with you:
Prescriptions
First-aid kit
Glasses/contacts (as needed)
Face mask
Hand sanitizer
Download List Here
Weekend Packing List Summary
Even if you're trip is overnight or for a couple of days, you still need to pack accordingly and make sure you have all the essentials and items you need for a great time away.
Don't fall into the trap of thinking it's only a short trip, just a day or two long, so it's okay to pack light. While you definitely need to pack less, there are still plenty of essentials and items that should be packed to ensure your trip runs smoothly.
Feel free to download our weekend packing list using the link below, and use it to help you always be prepared for your next trip or any future weekend trips. Revolutionize your travel packing, and don't forget to pack both some of your essential and desirable items.
You might also like to read:
Save and Pin for Later
Keep our ultimate weekend trip packing list, complete with a downloadable PDF, ready for your next getaway, by saving it to one of your Pinterest boards.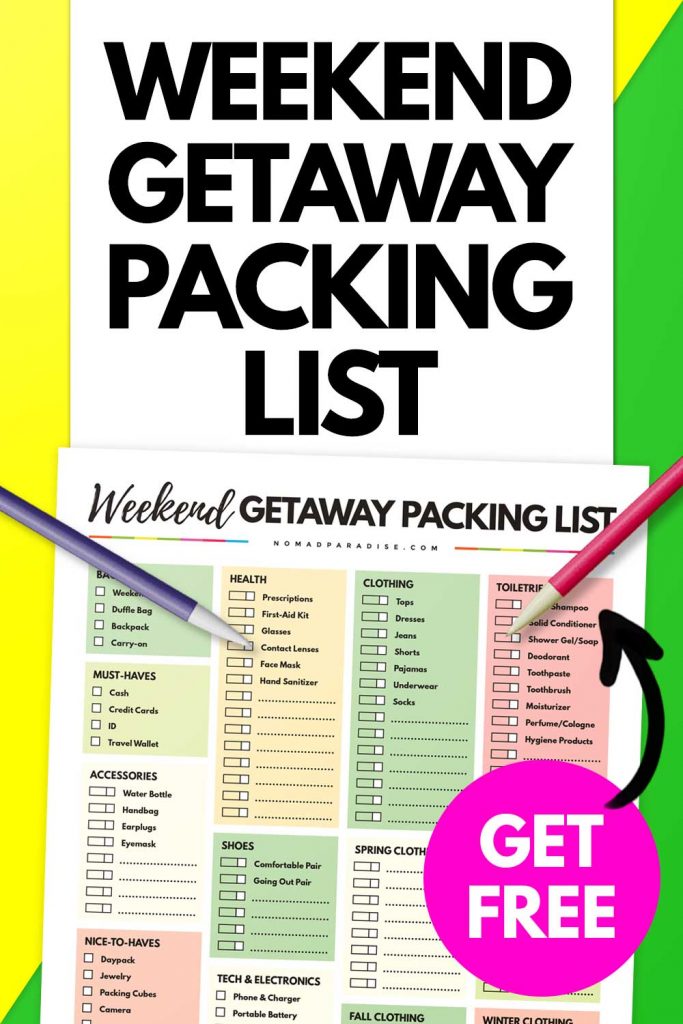 Author: Dale Johnson is a content writer and strategist who has traveled to 30 countries and counting to date.