This post may contain affiliate links, meaning if you book or buy something through one of these links, we may earn an affiliate commission at no additional cost to you. Learn more
Our vacation packing list gives you the ultimate checklist of everything you need to travel safely, smartly, and with style.
Download this entire checklist in PDF format at the end of this article, for you to print, check, and take with you on your travels. That way, you'll have a record of everything you're traveling with, and won't forget any essentials.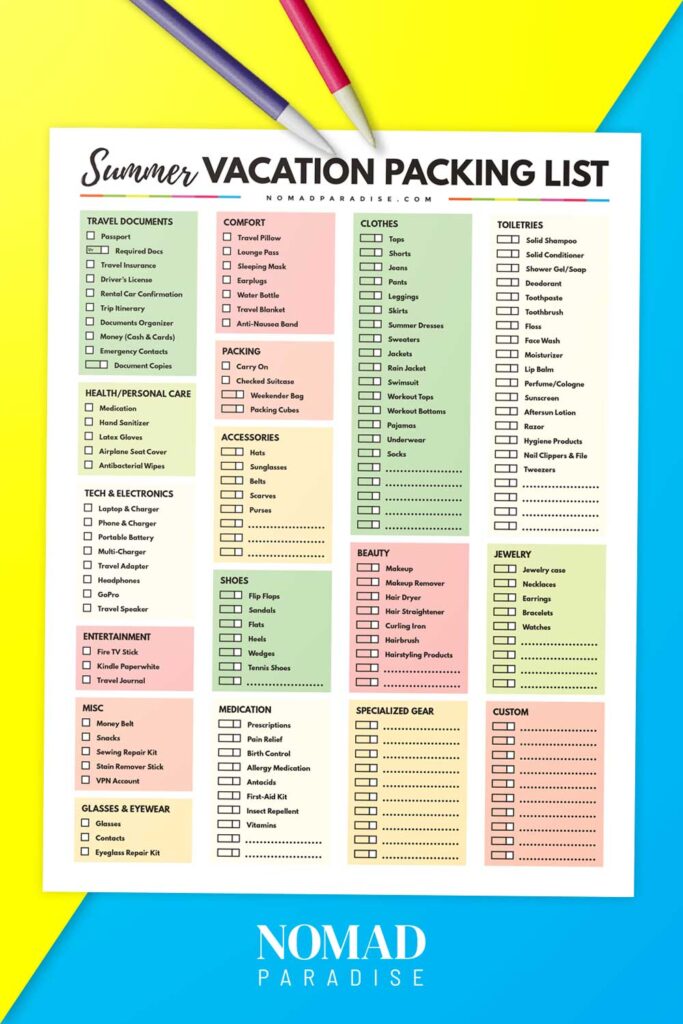 Travel Documents
1 – Passport
An RFID-blocking passport holder is a great addition to keep your passport safe and accounted for. Some people also like to make photocopies of their passports, just in case.
2 – Documents Required at Destination
Some customs agents are not overly keen on digital documents shown on your phone. Try to print your key documents off before traveling, if possible, including:
pre-travel test,
vaccine certificate,
recovery certificate,
hotel confirmation or Airbnb receipt for your quarantine, if needed, of course.
3 – Travel Insurance
Don't take the risk, even for short trips. Be sure to check the fine print of your insurance and the specifics of what you are covered for.
Aggregator websites often list by best price, rather than all essentials you selected. For travel medical insurance, consider SafetyWing for your next trip.
4 – Driver's License
While not all driver's licenses are valid abroad, this can double up as an important document to verify your identity. As always, check your destination to see if your driver's license is valid for driving.
5 – Rental Car Confirmation
Have this document on hand, ready for when you get to the rental station. If you're new to renting a car abroad, our rental car guide for Europe is packed with plenty of tips and things to be aware of.
6 – Trip Itinerary
Our travel binder gives you over 30 pages of printables to document and plan your trip. That way, you won't waste time on trip last-minute planning and wasting time.
7 – Travel Documents Organizer
Why spend time combing through scrumped-up papers in your carry-on? Keep all your documents in one safe place with a travel documents organizer.
8 – Cash & Cards
Try to exchange cash before you fly, and use your cards for backup. Airports, in particular, will give you a very poor exchange rate once you land.
Related: How to Get the Best Exchange Rate When Traveling
A top-up card can not only give you a better exchange rate at ATMs, it can also act as an invaluable barrier between your cash and your home bank account.
9 – List of Emergency Contacts
Need a printable for this? Our travel binder, mentioned above, has you covered.
10 – Copies of Travel Docs
Particularly for documents such as passports and driver's licenses that can't be printed, it's a great idea to scan them in and print off copies at home. Add them to your travel document organizer, for peace of mind.
2022 Must-Haves
11 – Face Mask
In the airport, and on flights, you will sometimes have to wear your mask for several hours at a time. The N95 mask is a good choice if you can get one. The important thing is to choose a mask you will be comfortable wearing. Before flying, try wearing one at home for long periods of time.
12 – Hand Sanitizer
It is easy to find hand sanitizer under 100ml that you can bring on the plane. This one has a clip too, that can be easily attached to a rucksack strap.
13 – Latex Gloves
Particularly when using the toilet, several packs of latex gloves are essential to travel with. Once used, you can simply discard them.
14 – Airplane Seat Cover
As most airplane seats are padded with fabric, spraying and wiping them down is often not an option. This is where an airplane seat cover can really come in handy.
15 – Antibacterial Wipes
Great to have on hand to wipe down taps, toilet seats, armrests, airplane trays, and any other hard services you'll encounter, both in the airport and on the plane.
Tech & Electronics
16 – Laptop & Charger
You'll quickly discover conventional laptops can be very heavy to carry. Ultraportable laptops are ideal if you have to do some work while traveling. Also consider a padded sleeve to protect your laptop when stowed in your carry-on, or if your rucksack doesn't have a laptop pouch.
17 – Phone & Charger
Remember to turn off data roaming when you board the flight. Once you arrive and turn airplane mode off, you can rack up heavy charges in seconds in other countries.
A protective phone case is a worthy investment, as your phone is such an important device. And consider a second cable charger, particularly as iPhone cables often fray and break.
18 – Portable Battery
Portable batteries are a lifesaver on long flights. This device can give you hours of additional charge if you want to use your phone or device to listen to music or watch movies. Remember to fully charge it the night before.
19 – Multi-Charger
Rather than having to travel with multiple cables, use a multi-charger cable. Not only will you save space, but you can also charge and use all your devices from one solitary point, using one travel adapter.
20 – Travel Adapter
Universal adapters are a great choice over single-purpose adapters. Such a device allows you to charge from nearly any country in the world. But wherever you go, you absolutely need one.
And we recommend getting one that comes with a universal power strip like Mogics or Bestek.
21 – Noise-Cancelling Headphones
Great for remote working, sleeping on flights, and relaxing. If headphones are too bulky for your carry-on, you can also consider noise-canceling earbuds.
We own and love using the Bose QuietComfort 20 noise-canceling in-ear headphones. Bose have some newer models, including these Quiet Comfort earbuds, if you'd rather go wireless.
22 – GoPro
What is great about GoPro is that you can take it literally anywhere. It's a worthy investment if you want to snap from pools, beaches, hikes, and any outdoor activities. That way you put your phone, or an expensive SRL/DSRL, at less risk. There are some great accessories for it too.
23 – Travel Speaker
Find a travel speaker that is waterproof, with wifi or BlueTooth connectivity. We own and travel with the Wonderboom speaker from Ultimate Ears.
Comfort
24 – Travel Pillow
If you invest in a quality travel pillow, not the cheap ones found at airport, they can really help you relax and sleep on flights, buses, and cars. Head over to our guide to the best travel pillows to find a pillow that's right for you.
25 – Lounge Pass
The airport lounge can make travel are far more pleasurable experience. If you travel often, a lounge pass can be a sound investment. Our guide on how to get airport lounge access will give you more information.
26 – Sleeping Mask
If you are sensitive to light, sleeping on a flight can be really difficult. With a comfortable design, sleeping masks can really help you get some shut-eye on long flights.
27 – Earplugs
As with sleeping masks, cheap, conventional earplugs rarely work. Take some time to find a design that works for you, and earplugs will drastically reduce noise on flights.
28 – Water Bottle
You can fill up a collapsible water bottle using a free water fountain after security checks before you board. That way, you can stay hydrated throughout your flight.
Related: Best Water Filters and Water Purifiers for Travel
29 – Travel Blanket
Look for a travel blanket that packs up into a pouch. That way, you can attach it to your carry-on without taking up space. A/C in particular on long flights can make the plane very cold, so it's always good to have a blanket that covers the length of your body.
30 – Anti-Nausea Bands
Ideal if motion or pressure changes on flights make you feel nauseous. Anti-nausea bands are so simple to use, you'll barely notice them on your wrist.
Entertainment
31 – Fire TV Stick
Most hotels and AirBnBs today are equipped with TVs that have at the very least HDMI compatibility. A Fire TV Stick allows you to watch Netflix, Prime, Disney+, YouTube, and plenty of other services, all from one place. All this highly portable device needs is an internet connection, HDMI port, and electrical socket connection.
32 – Kindle Paperwhite
Reading is a great way to relax and pass free time. A Kindle Paperwhite is a super lightweight device that allows you to access all your downloaded titles offline. The device does not emit blue light, so you won't feel eye strain after a short amount of time.
33 – Travel Journal
Travel journaling can be very therapeutic in your downtime, encouraging you to write down thoughts, feelings, and ideas. Our travel binder includes travel journal pages you can print out.
Packing
34 – Weekender Bag
It's a great idea to pack a smaller weekender bag in your luggage. That way you don't need to lug a carry-on around for a day trip or weekend away, while on vacation. Our guide to the best daypacks can give you plenty of advice.
35 – Carry On
Your carry-on needs to strike the perfect balance between comfort, space, and style. If you're worried about your carry-on ending up in checked luggage, our guide to the best underseat carry-on luggage will help you. In addition, wheeled backpacks may also be a good choice for you.
36 – Checked Suitcase
Always choose function over style with suitcases. Suitcases get battered, so don't get precious about how your suitcase looks. Choose one that is easy to push and designed to withstand heavy collisions. Our guide to luggage sets will give you more information.
37 – Packing Cubes
Some debate that packing cubes don't save space, but purely for the organization alone, they are worth it. Our guide to the best packing cubes will give you lots of information about products, and how to use them.
38 – Clothes
Use our clothes checklist to help you pack for your vacation, and leave no stone unturned:
Tops
Shorts
Jeans and/or Pants
Leggings
Skirts
Dresses
Sweaters
Jackets
Rain Jacket
Swimsuit
Workout Clothes
Pajamas
Underwear
Socks
39 – Accessories
Likewise with our clothes list, our accessories list can help you pack appropriately for your vacation:
Hats
Sunglasses
Belts
Scarves
Purses
40 – Shoes
It is a good idea to pack a pair of casual shoes, a pair of going-out shoes, and if you workout, a pair of training shoes. That set of three should cover you for most activities and scenarios.
Flip Flops
Sandals
Flats
Heels
Wedges
Tennis Shoes
41 – Toiletries Bag & Toiletries
Get yourself a large toiletries bag, and be sure to pack your essentials. If you use specific shampoos, deodorants, or other toiletries, it can be so difficult to find certain items abroad. Don't take the risk: the list below can help you:
Solid Shampoo
Solid Conditioner
Shower Gel and/or Soap
Deodorant
Toothpaste
Toothbrush
Floss
Face Wash
Moisturizer
Lip Balm
Perfume/Cologne
Sunscreen
Aftersun lotion
Razor
Feminine Hygiene Products
Nail Clippers & File
Tweezers
42 – Medication
Likewise to toiletries, medication should be taken seriously. Pharmacies in other countries may not be open on weekends or it may be difficult to explain your symptoms in another language.
Pack any medication you need, which may include medication for:
Prescriptions
Pain Relief
Birth Control
Allergy Medication
Antacids
First-Aid Kit
Insect Repellent
Vitamins
43 – Beauty
Particularly for getaways and evenings at bars and restaurants, you will want to look your best and feel great. Our list can help you remember essential beauty accessories:
Makeup
Makeup Remover
Hair Dryer
Hair Straightener
Curling Iron
Hairbrush
Hairstyling Products
44 – Glasses/Contacts
Always carry a spare pair of glasses. Make sure both pairs are packed into their provided glasses cases. If you wear contacts, bring more than you need for the duration of the vacation.
45 – Jewelry Travel Case & Jewelry
Many leave expensive jewelry at home out of fear of loss or damage. A jewelry travel case is an excellent way to carry jewelry in a safe way. Our guide on how to pack necklaces while traveling, along with other jewelry, has plenty of smart tips to follow.
Miscellaneous
46 – Money Belt
Money belts have come a long way from the stereotypical bulky belt of the nineties. Nowadays, there are plenty of clever designs out there. Check out our guide to the best money belts for more information.
47 – Snacks
Aim for high-protein foods, and try to avoid foods with lots of added sugar. A bag of almonds, cashews, or trail mix are good choices.
48 – Sewing Repair Kit
A sewing repair kit is simple to pack and stops you from having to go out and buy new clothes. Rips and tears are common when you're constantly out and about and moving.
49 – Stain Remover Stick
This stain remover from Tide is a great little accessory to remove coffee, wine, and other stains from clothes, hotel sheets, and carpet floors. We've used it countless times when traveling. If you act fast, you can not only save your favorite clothes, you can also avoid disagreements and fines at hotels and AirBnBs.
50 – Eyeglass Repair Kit
Essential to pack if you don't use contacts. The screws used to connect the temples to the frames are so tiny, conventional screwdrivers are too big to fix them.
51 – VPN Account
VPNs like ExpressVPN allow you to anonymously browse the internet via a masked IP address. Hotel and coffee shop wifi, in particular, are incredibly vulnerable to hackers due to poor security. VPNs give you peace of mind that no one can stalk your activities online.
Packing List by Activity
Certain types of trip required particular, or specialized, equipment. If you plan to hike on vacation, you'll need hiking boots. Whereas if you're heading on a beach holiday, you'll swap those hiking boots for beach towels and sun parasols.
These essential lists of gadgets and gear could be of use to you for certain types of vacation:
Vacation Packing List Summary
Don't undertake your vacation without proper planning and preparation. Use our ultimate checklist, complete with over 50 essentials, to pack everything you need for a fun and memorable trip.
You Might Also Like to Read
Save and Pin for Later
Keep this ultimate vacation packing list for safekeeping, ready for your next getaway, by saving this article to one of your travel planning Pinterest boards.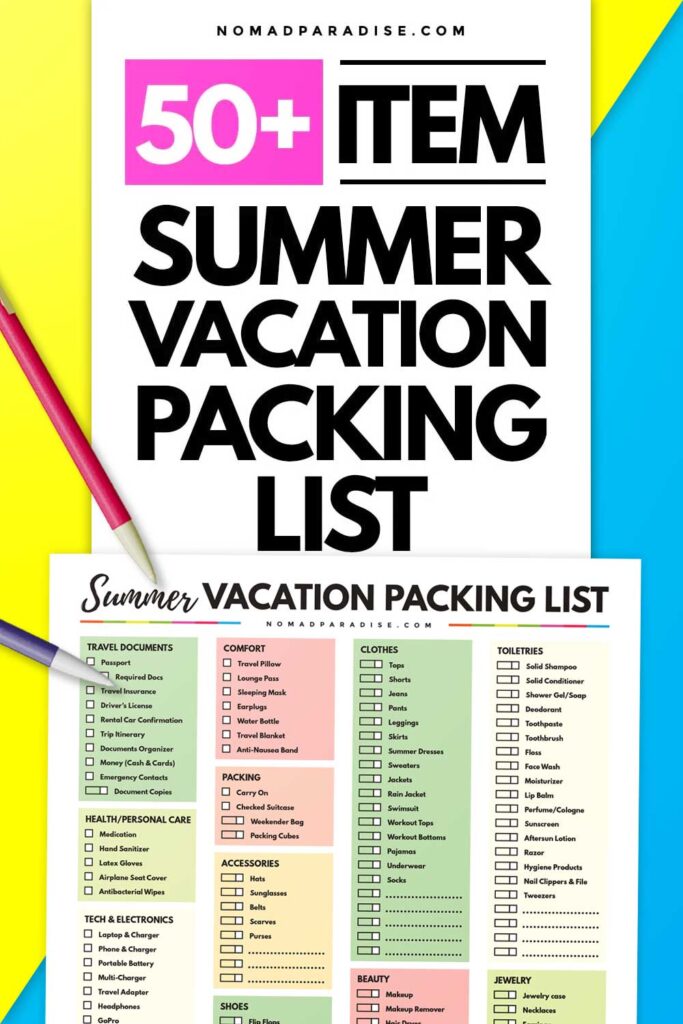 Author: Dale Johnson is a content writer and strategist who has traveled to 30 countries and counting to date.
Travel Tools and Resources
Need a little help and guidance planning your trip? Don't worry. We've got you covered!