This post may contain affiliate links, meaning if you book or buy something through one of these links, we may earn an affiliate commission at no additional cost to you. Learn more
Savor the heat, spice, and unrivaled flavor of Indian cuisine in bite-sized form with these Indian snacks, perfect for grab-and-go food or sampling some street food delights when you're feeling peckish but not ready to eat a full meal.
Indian Snacks
1 – Samosa
A Samosa is a stuffed, triangular-shaped savory snack, and is one of India's most popular snacks and chaat food. It is a flavorsome, deep-fried dough that is stuffed with spiced filling, usually potatoes and peas but sometimes with meat.
Samosa is generally eaten along with tamarind and mint chutneys, and it is spicy and packed with flavor. Samosas are usually big and about the size of your hand, but there are bite-sized samosas called cocktail samosas.
2 – Cutlet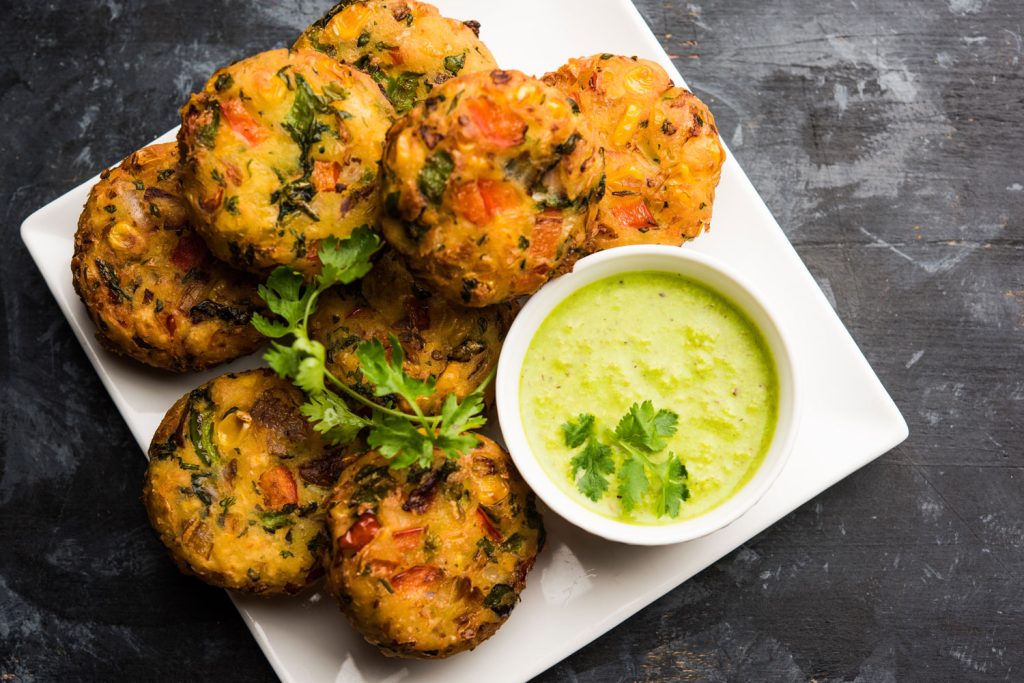 Another uniquely Indian snack is the vegetable cutlet or tikki. It is a dish of vegetables, cheese, or even meat that is cooked, spiced, and then either deep-fried or shallow-fried. Cutlets are usually crispy on the outside and soft on the inside and commonly served with ketchup or chutneys.
The most popular cutlet varieties include potatoes, peas, carrots, beetroot, and paneer, amongst others. Fish, mutton, beef, and chicken are popular meat cutlets.
3 – Paniyaram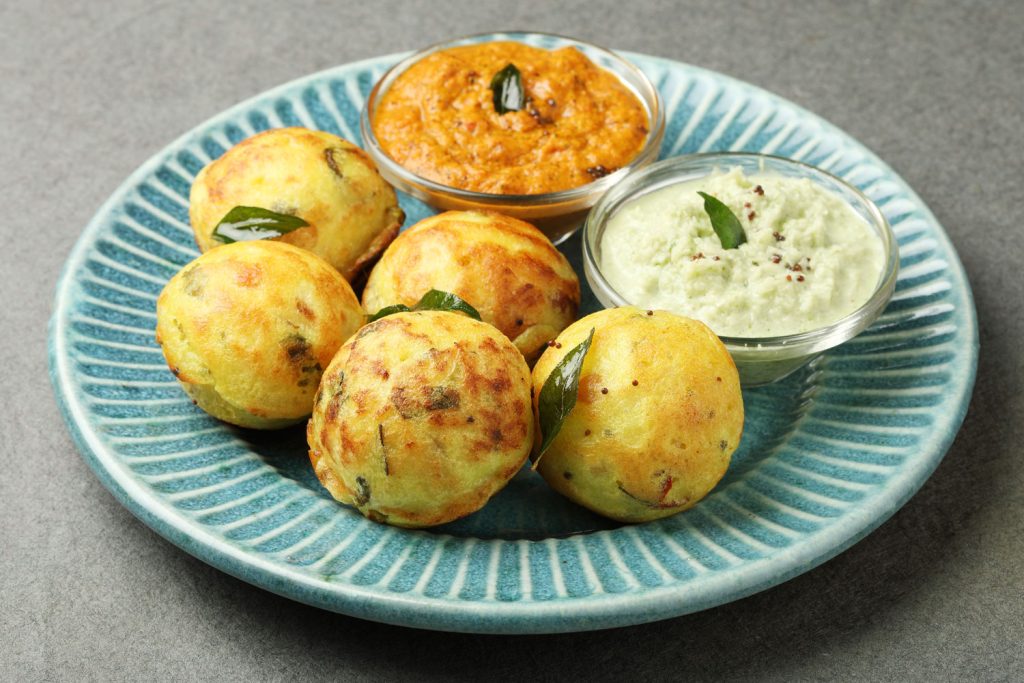 This is a beloved South Indian snack that is made by steaming batter using a special vessel or mold. The paniyaram batter is similar to the dosa or idli batter but contains added tempering.
Once steamed, the paniyaram is served with coconut, tomato, or onion chutney, either at breakfast or as an afternoon snack accompanying tea or coffee. Paniyaram is also known as kuzhi paniyaram, guliyappa, paddu, or appadadde, depending on region.
4 – Chakri/Murukku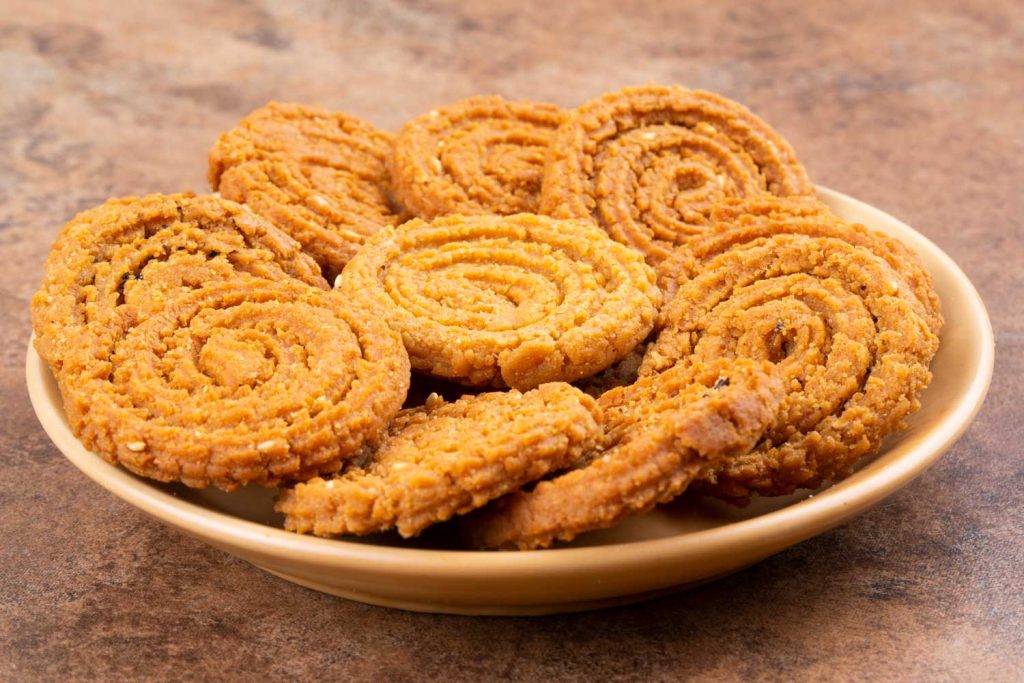 Come the festival season, this crunchy, savory snack can be found in every gift box and serving tray. Murukku, chakli, chakri, or jantikalu is made from rice flour and black gram flour and is found in its various names and variations in different parts of the subcontinent.
The snack is made by deep-frying the mixture in hot oil, and the vendor will drop it in twisty, twirly, circular patterns until the batter is golden and crunchy.
Chakri is made with a special appliance that helps squeeze the batter out into thin strips, and it is usually enjoyed as an afternoon snack.
5 – Uppu Cheedai/Seedai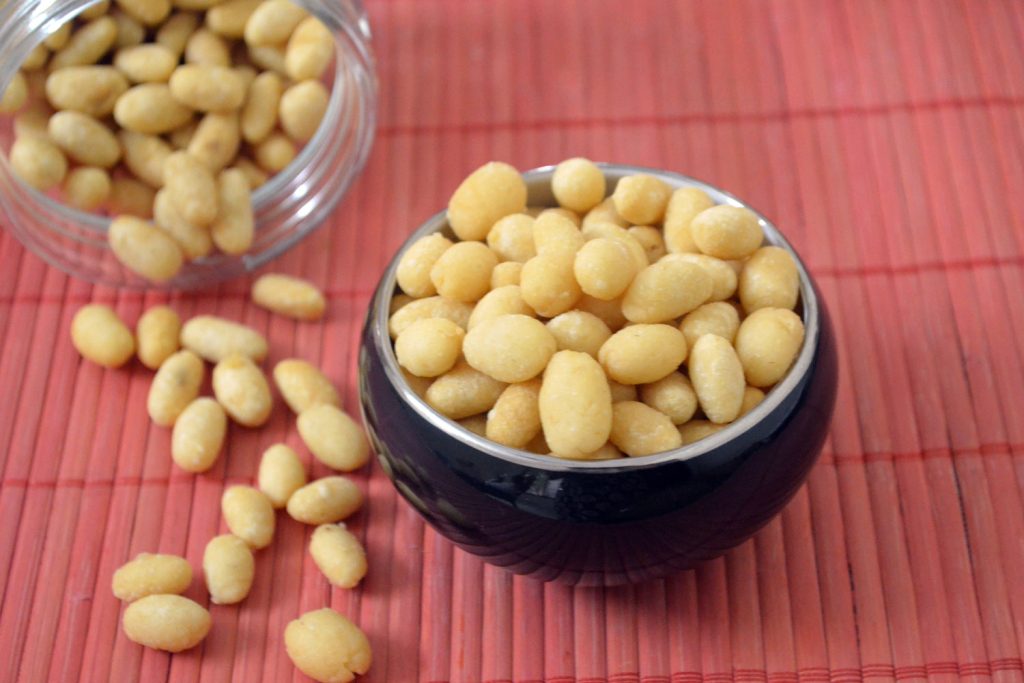 Uppu cheedai is made during the festival of Janmashtami or Krishna Jayanthi. It is a traditional South Indian savory snack. Made from rice flour and lentils, uppu cheedai are small, deep-fried balls, about the size of a blueberry.
Each uppu cheedai is crunchy, crispy, and delicious, and you'll find yourself eating them by the handful! Uppu cheedai specifically refers to the savory version of the cheedai, and there is a sweet version, called vella cheedai, that is made with jaggery you should also look out for.
6 – Ribbon Pakoda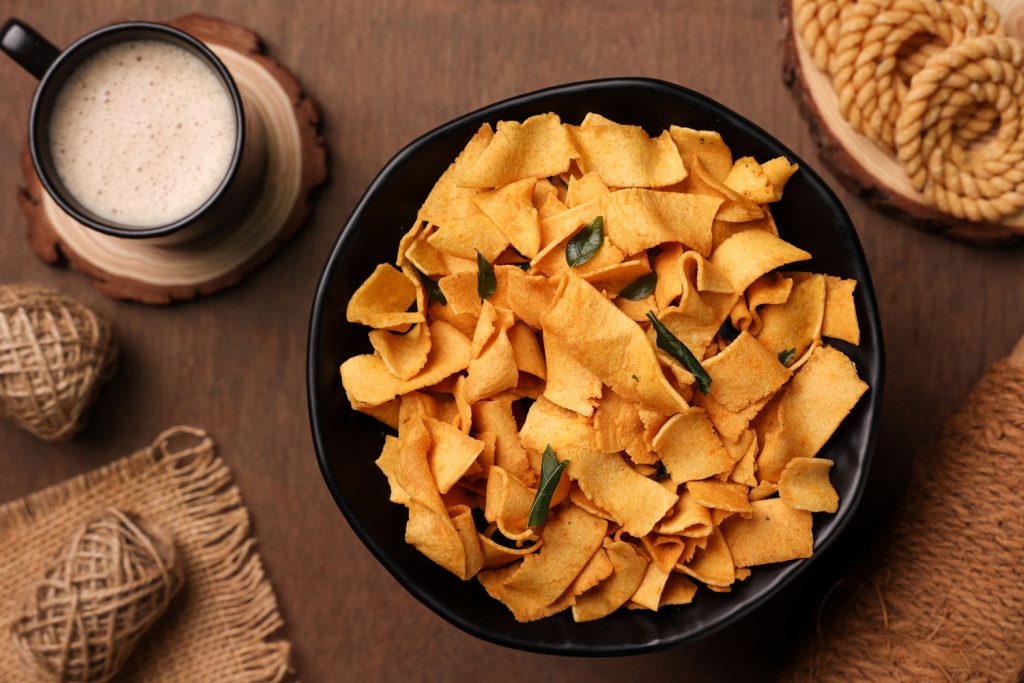 Ribbon pakoda is another beloved deep-fried, savory snack that makes an appearance during festival time, especially during Diwali.
Ribbon pakoda is usually made with rice, flour, gram flour, and an assortment of spices. It is then passed through a press that flattens the batter into flat, ribbon-like strands (hence the name), which are fried in hot oil.
Ribbon pakora is nearly always a spicy snack and is enjoyed with other festival foods like murukku, cheedai, and Indian sweets. It is also a great accompaniment to tea and coffee.
7 – Pakora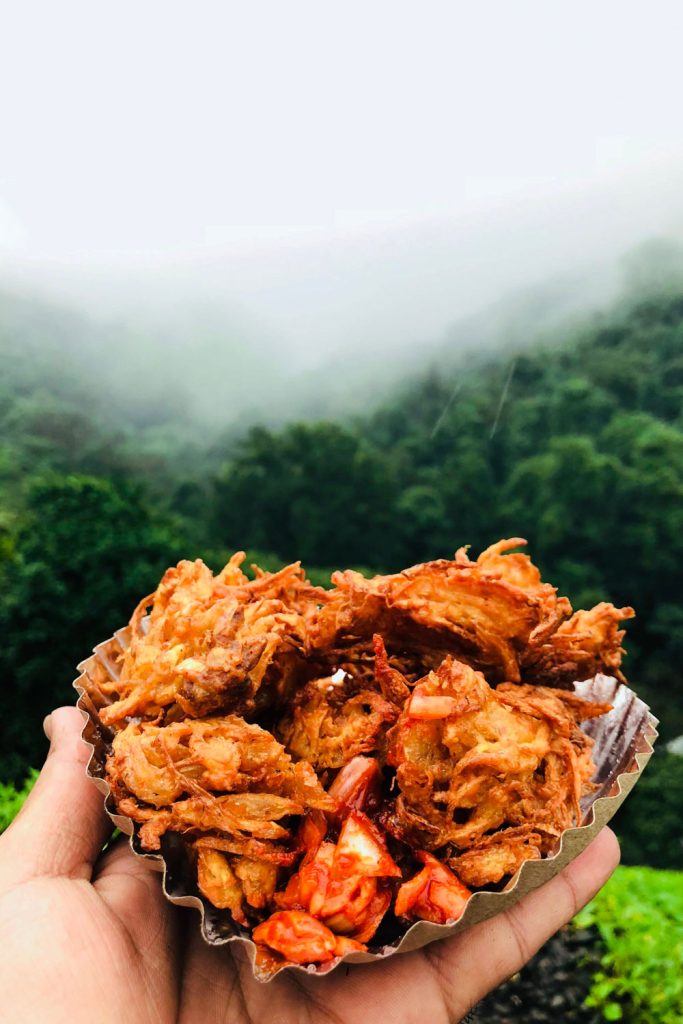 Few snacks, if any, epitomize Indian cuisine quite like the delectable pakora, a type of fritter made by frying vegetables like onions, spinach, potato, cauliflower, baby corn, and plenty of others in batter. The batter is usually spiced thoroughly, lending deep, intense, and heated flavor to these vegetable fritters.
Pakora can be served with chutneys like mint, coriander, tamarind, or coconut chutneys, and also pairs well with some classic tomato ketchup. Pakora is a popular street food, found in all corners of the country, and is also known as pakoda or pakori.
8 – Chili Bajji
Bajjis are another type of fritter, similar to the pakora. Arguably, the most famous bajji is the chili bajji, also known as mirchi bajji or molagai bajji, all referring to a type of green chili used in the dish.
The bullhorn chili is bigger than a regular chili but is milder and tastes similar to a bell pepper. This variety of green chili is doused in batter and deep-fried, and it makes for a delicious snack with just the right amount of bite.
The bajji is best enjoyed with coconut chutney and a glass of chai or filter coffee on the side. Chili bajji is a very popular street food snack and is often sold near beaches.
9 – Potato Bonda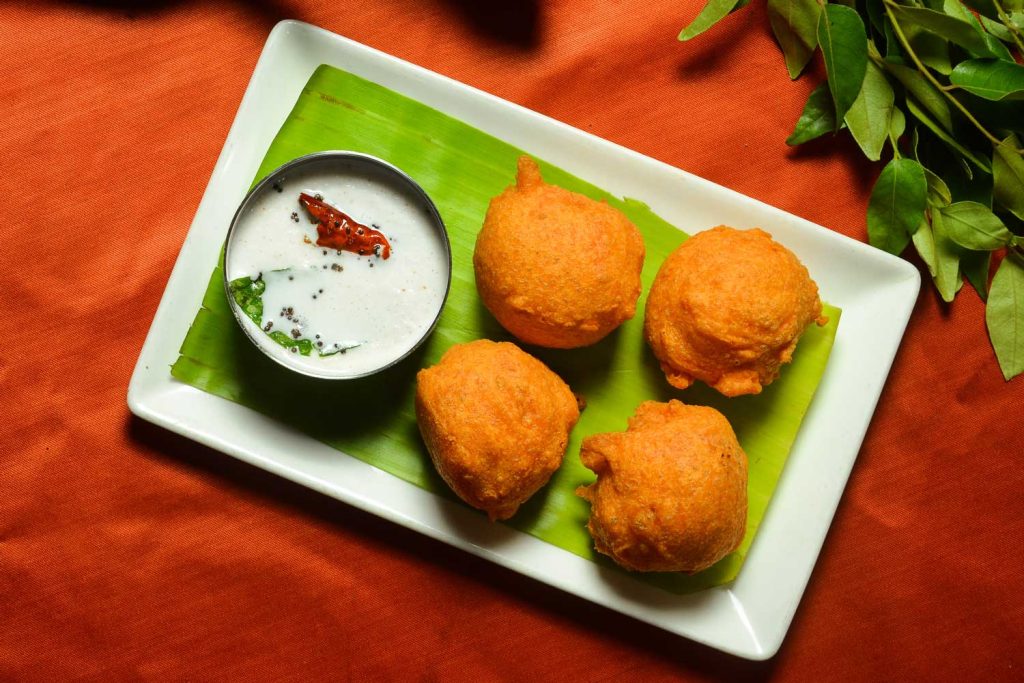 Another popular vegetable fritter, the bonda is a ball of fried batter that is stuffed with spicy potatoes and served with delicious coconut chutney.
Bonda is one of the most well-known South Indian snacks that is ubiquitous across the southern states. While the bonda can have many kinds of stuffing, like onions, sweet potatoes, tapioca, paneer, egg, and even meat, the one that is the universal favorite is the potato bonda.
The potatoes are cooked, tempered, and well-spiced before being dipped in batter and deep-fried. Different parts of the country use different lentils for the batter, be it gram flour, chickpea flour, rice flour, all-purpose flour, black gram flour, and even wheat flour.
10 – Khakhra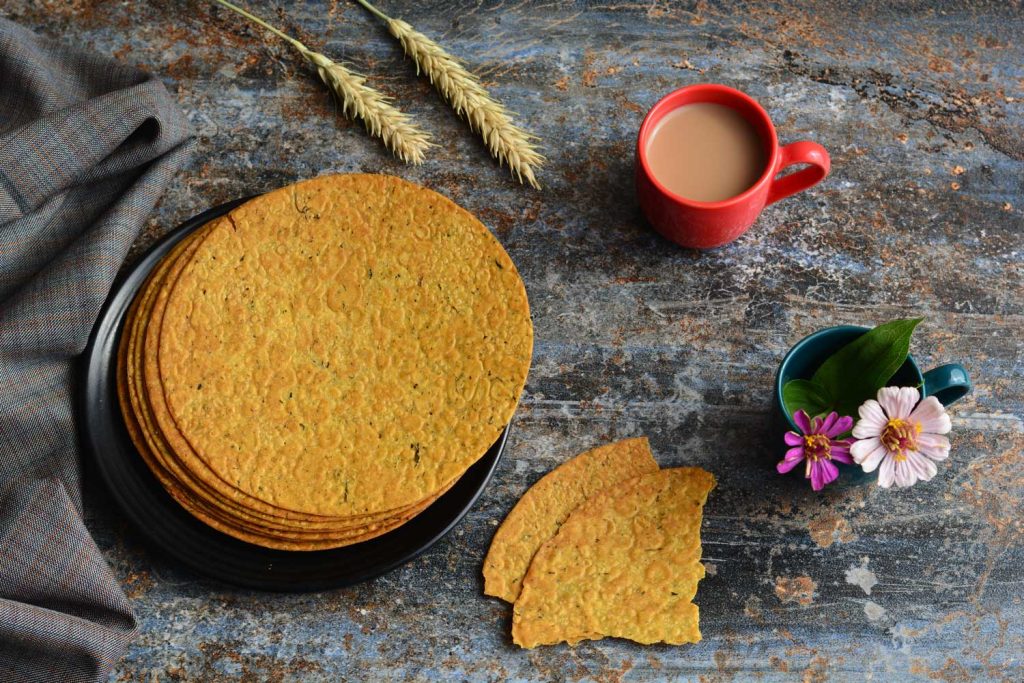 The khakhra is, in essence, a crispy, spiced, Indian tortilla that is made from whole wheat flour and mat flour or dew bean flour that is typical to the subcontinent. The dough is mixed, rolled out, and then toasted on a tava using a wooden press, until nice and crispy.
The khakhra is a Gujarati specialty and is eaten with sweet or spicy pickles. It is an everyday snack that is made in a variety of flavors like methi (fenugreek), ajwain (carom seeds), jeera (cumin), garlic, and mint, to name a few. There are also varieties of sweet khakras you should keep your eye out for.
11 – Thattai/Nippattu/Chekkalu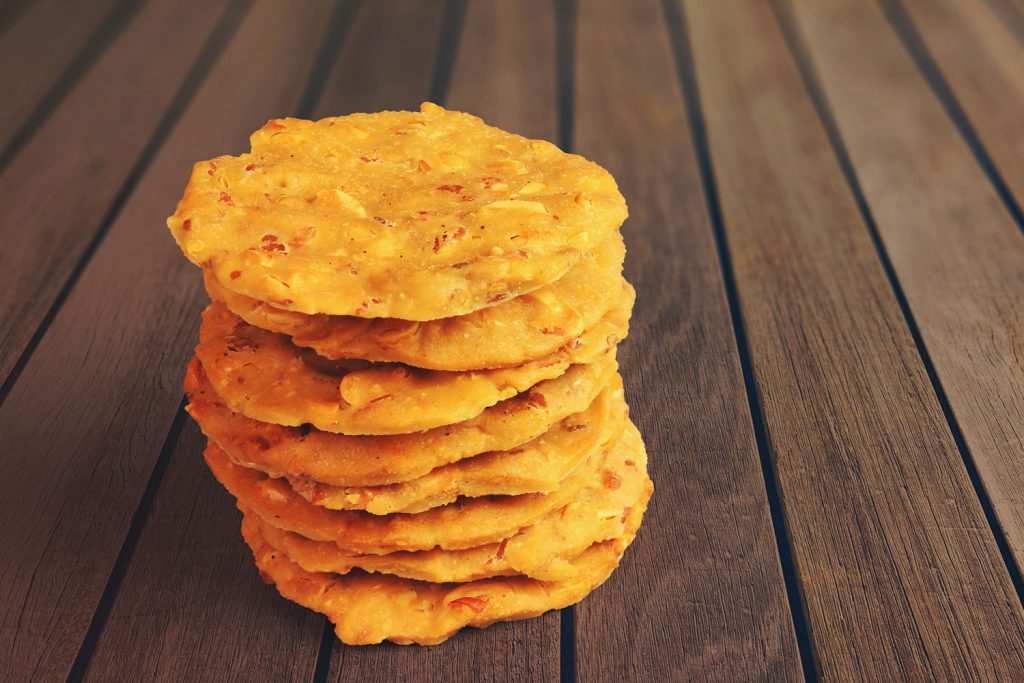 This South Indian snack goes by many names and is found across the southern states of India. It is a deep-fried dish that is made from a mixture of rice flour and lentils, seasoned with spices, which is then rolled out into thick discs and fried.
The resulting thattai is crispy and crunchy and packs some serious flavor. It is called thattai in Tamil Nadu, Nippattu in Karnataka, and Chekkalu in Andhra Pradesh. These spiced Indian crackers are most commonly eaten during the festival season.
12 – Sev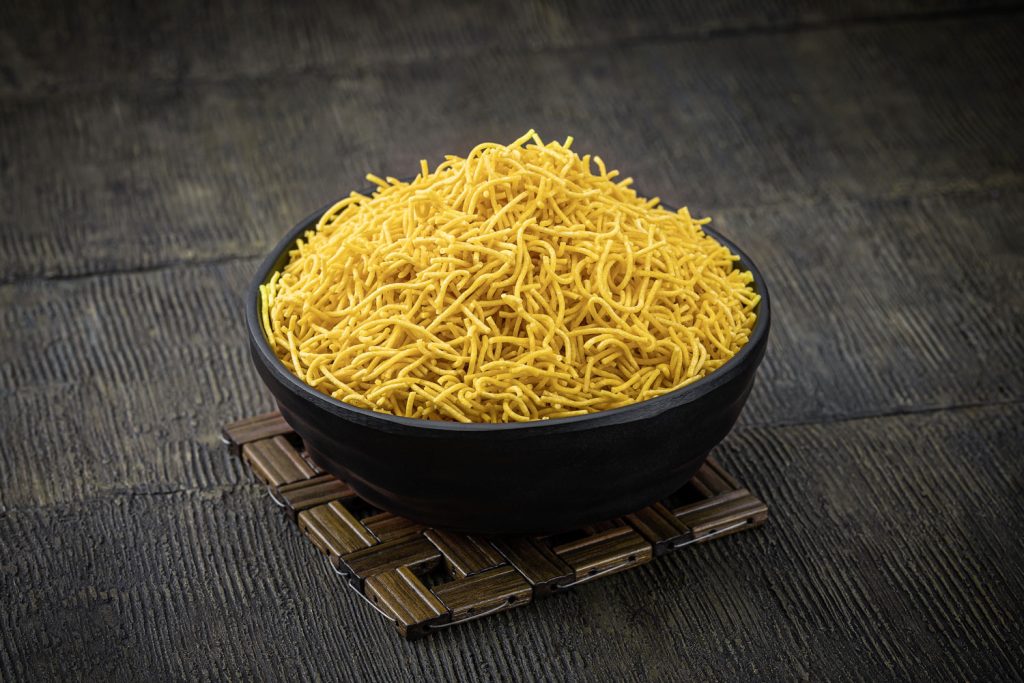 Sev is an Indian fried noodle snack that is made from spiced and seasoned lentil flour. The sev can be eaten as a stand-alone snack or as a topping on chaats like bhel puri and sev puri.
Sev comes in different sizes. Some types of sev are thick, like karasev and gathiya sev, while other types of sev, like omapodi, are thin and delicate. Sev is most often made from gram flour, but the South Indian version also contains rice flour, to make it crisper.
The karasev is usually made around festival season, while the North Indian sev is a snack that is enjoyed throughout the year. There is also a version of sev that is made from potatoes, known as aloo bujiya.
13 – Chikki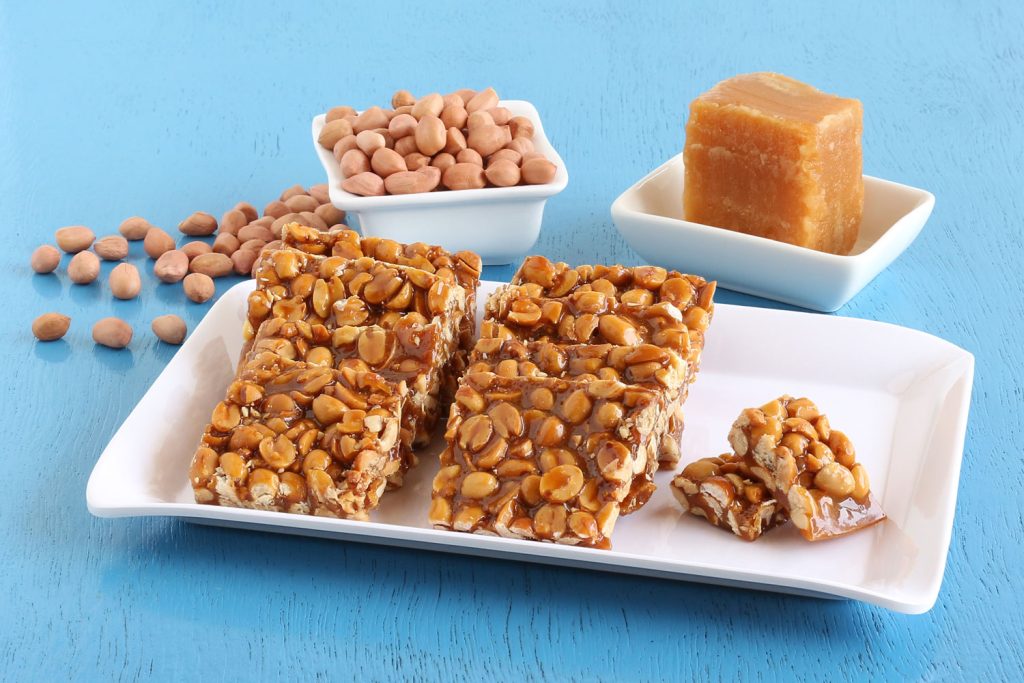 Chikki is an Indian dessert snack that has a unique flavor and texture. Made from nuts and jaggery, it is a hard, crunchy, super sweet, and extremely addictive snack.
Originating from the city of Lonavala in Maharashtra, chikki is most often made with peanuts, as they are easily and readily available, along with jaggery, cardamom, and other flavorings. Chikki can also be made with other nuts.
Chikki comes from the Marathi word "chikat," meaning "sticky." While this sweet snack is available all over the country, it is most famously sold at Lonavala train stations. When the Railway authorities were laying down tracks near Lonavala, one enterprising entrepreneur invented the chikki to provide sustenance to the workers and, as they say, the rest is history.
14 – Mixture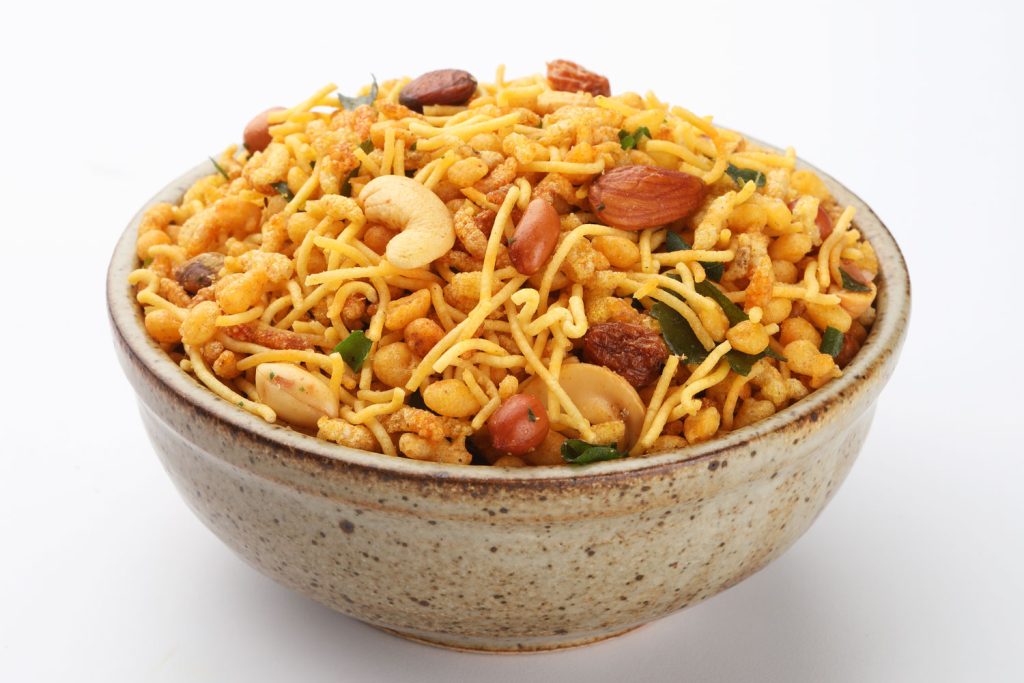 Mixture, mixture namkeen, or Bombay mixture is a savory snack that is a combination, or "mixture," of an assortment of fried snacks like lentils, peanuts, cashew nuts, sev, roasted chana dal, and other fried food and nuts.
It is often tempered and spiced and goes by various names depending on the region it is from. It is often an assortment of other snacks like murukku, Karasev, and the like.
Mixture is renowned for its wholesome, crunchy deliciousness that should always be eaten by hand. The snack is commonly eaten in the afternoon and is a beloved go-to at festivals.
15 – Mathri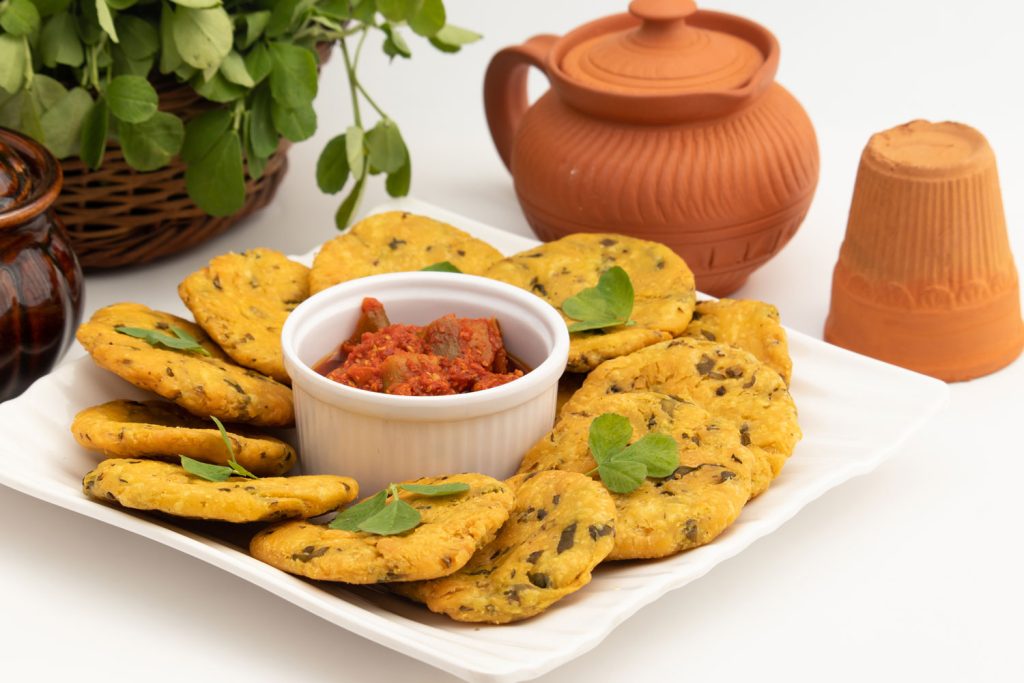 Mathri is a dry, flaky cracker from the Rajasthan region. It is crispy, crunchy, and traditionally made from all-purpose flour and semolina flour, although it can also be made with whole wheat flour.
The flavors in mathri come from the spices and seeds added to it. Mathri, or mathi as it is sometimes called, will stay fresh for several days after being made, hence is a popular snack to pack for long travel. Mathri can be enjoyed with mango, lime, or chili pickles, and is often accompanied by tea or coffee.
16 – Dhokla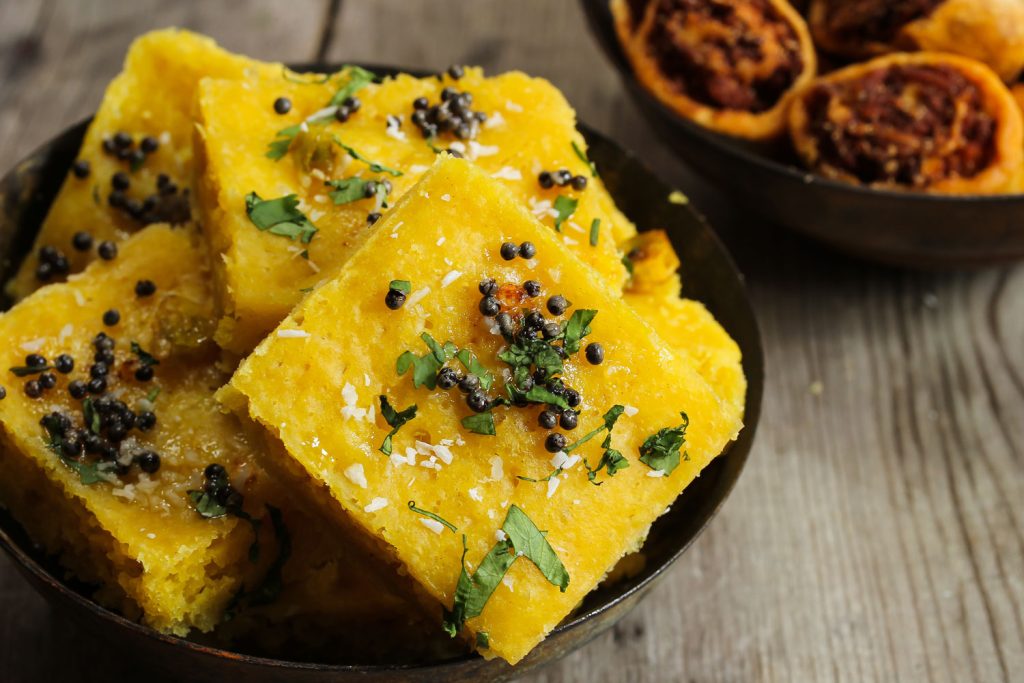 One of Gujarat's most iconic dishes, the dhokla is a soft, spongy, and spicy dish that is full of unexpected flavors and textures and makes for a very satisfying snack.
It consists of a fermented batter made of rice and pulses, that is first seasoned and then steamed. The dhokla has a cake-like consistency and is eaten with fried green chilis, tamarind, coriander, and mint chutneys.
Dhokla has a delicate texture yet a powerful flavor, full of spice, and is often eaten as a side to many dishes, or for breakfast.
17 – Muthiya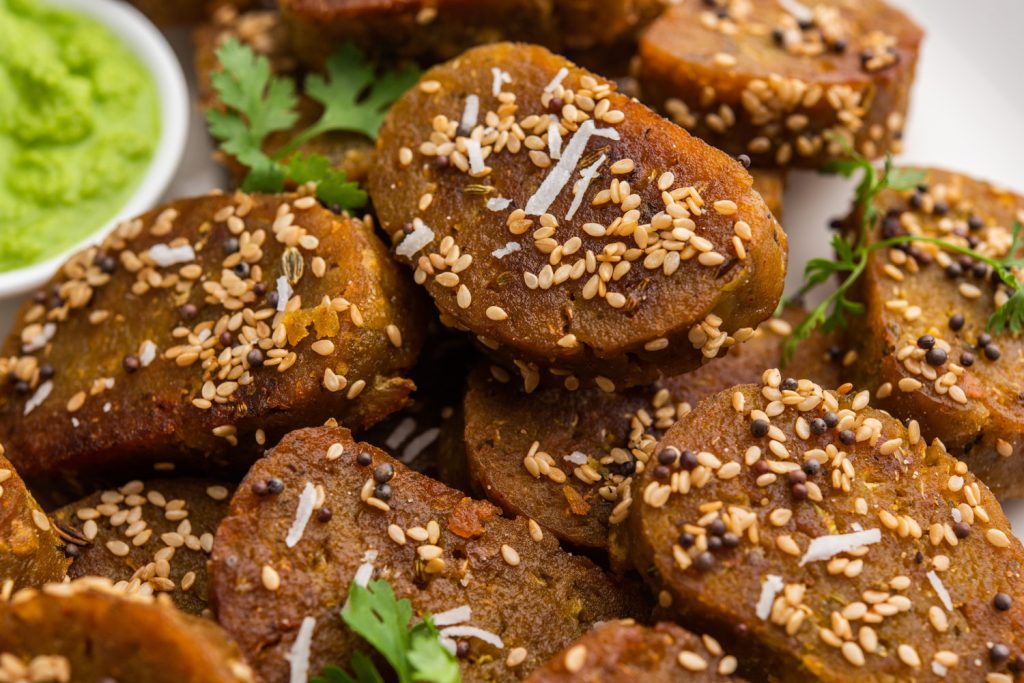 Made from gram flour that is spiced and seasoned, muthiya is another well-loved snack from Gujarat. While muthiya is traditionally steamed, it can also be fried, and both versions are delicious and filling.
Muthiya is a popular street food and snack in Gujarat. The dish gets its name from the word "muthi" – the clenched fist position we use to grip and make this snack.
Muthiya can be enjoyed with sweet or spicy chutneys as a snack, but it can also be enjoyed as a main meal by adding it to a vegetable gravy or eating it with Indian bread.
18 – Forminhas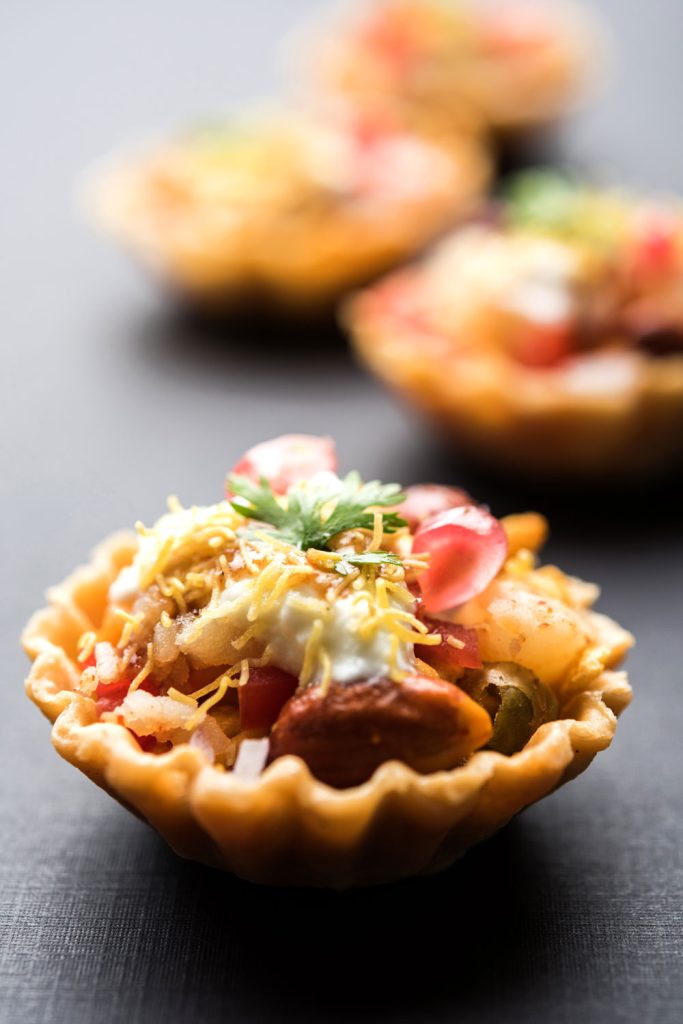 Forminhas are sweet and savory bite-sized canapes that are a part of any Goanese celebration. These hors d'oeuvres are a favorite food at most Goanese weddings and can be vegetarian or non-vegetarian. The canapes are made with filo dough or any kind of pastry puff and stuffed with a wide range of ingredients.
For a non-vegetarian version, you can use chicken, fish, shrimp, and egg, and for the vegetarian forminhas, vegetables like carrots, peas, and potatoes are common, along with a smidge of sweetness from fruits such as apples or pineapples. Mayonnaise, salt, and pepper add the final touch to these indulgent Indian treats.
19 – Plantain Chips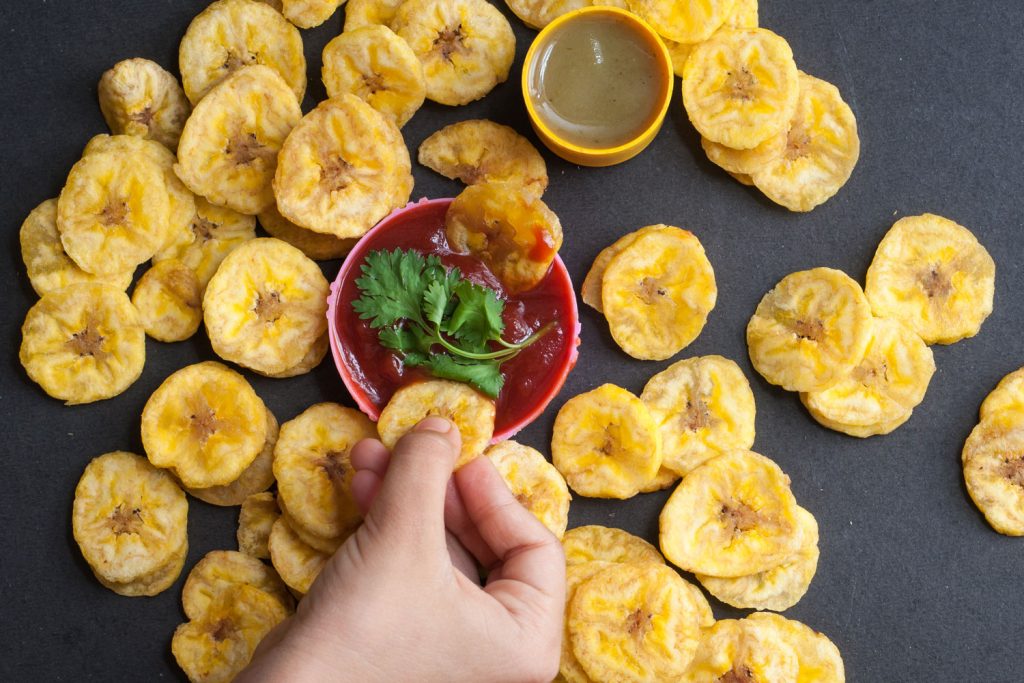 Kerala plantain chips, more commonly called banana chips, are world-famous. These savory snacks are made from a special variety of plantain called nendran. The plantain is sliced thinly, deep fried in coconut oil, and then perfectly seasoned with the most basic spices like salt and turmeric.
These plantain chips are found all over the state of Kerala on practically every street corner. The chips, while most commonly savory, can also be made sweet with jaggery, with equally delicious results. Plantain chips are a popular snack to be enjoyed with tea.
20 – Ghugni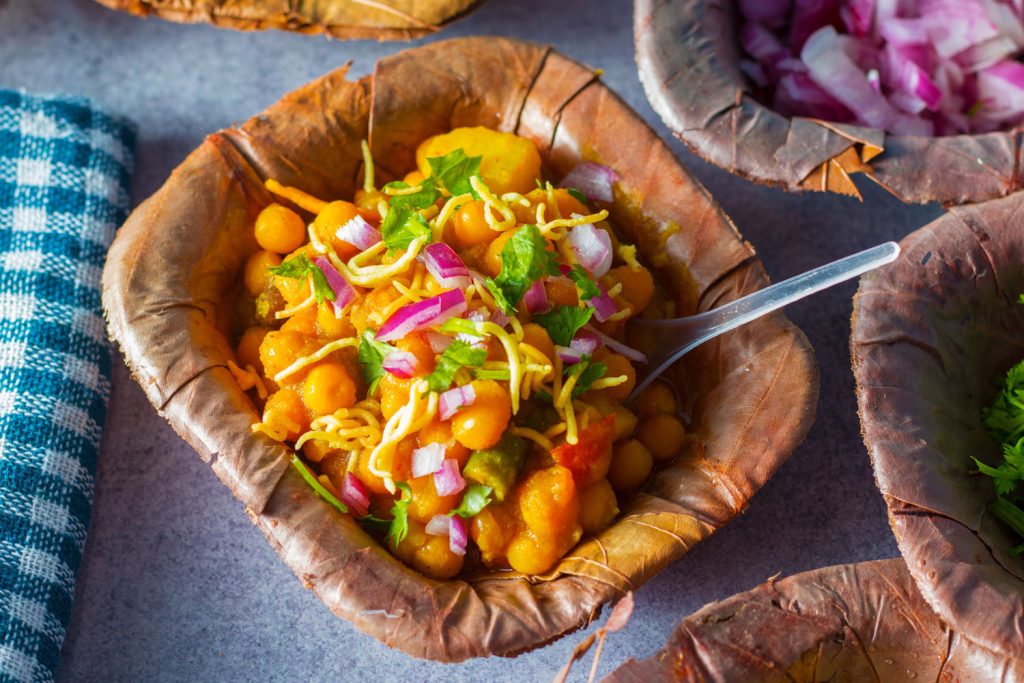 Ghungi is one of West Bengal's most popular street foods. While ghugni is conventionally a snack, it can be eaten as a hearty main along with puffed rice, bread, or even pakoda.
Consisting of dried yellow peas, cooked in water with many spices like many curries or stews, this dish one of the healthiest, heartiest, and most satisfying snacks you can find in the country.
Indian Snacks Summary
Indian cuisine is as diverse as it is delicious, and as these sumptuous snacks show, the joys of Indian cooking can be enjoyed at any time of the day, not just for lunch or dinner.
Whether you're exploring food markets bathed in moonlight, or enjoying some soothing afternoon tea, these Indian snacks can bring heat, spice, and incredible flavor to the foray, no matter what the time or occasion.
You Might Also Like to Read
Save and Pin for Later
Visiting India soon? Keep this article for safekeeping by saving it to one of your Pinterest boards.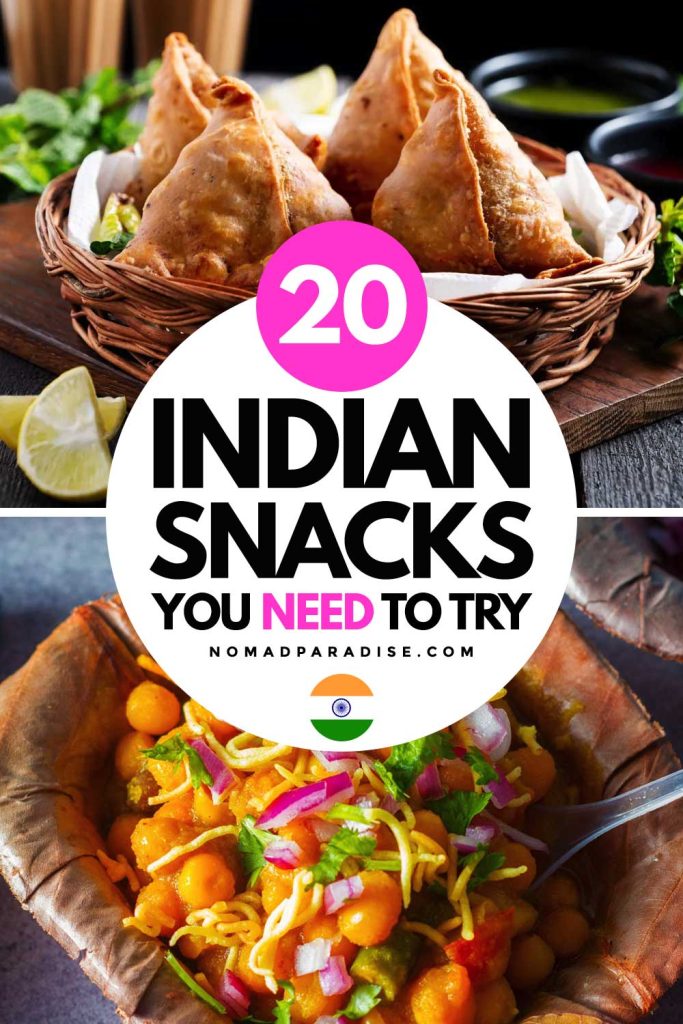 Local Insight Contributor: Nandhini Parthib is an Indian content writer, deeply passionate about Indian culture, travel, and cuisine, who is keen to share more about India through her writing.