This post may contain affiliate links, meaning if you book or buy something through one of these links, we may earn an affiliate commission at no additional cost to you. Learn more
Devour the delights of one of the world's most celebrated cuisines with these Indian foods, and experience the magic of Indian cooking in its truest, most authentic form.
From the metropolis of Mumbai to the shores of Goa, dazzling dishes in their truest form can be found in abundance. They capture the heart and soul of what Indian cuisine is all about, igniting the senses with their aromas, textures, and flavors.
Indian food is undoubtedly well-traveled, but nothing is quite like trying these dishes in their homeland. Buckle up for a culinary expedition of color, heat, and flair, as an expert shows you Indian food in its purest form through 30 of its traditional dishes.
Breakfast
1 – Alu Poha
Alu poha (or aloo poha) is the quintessential Maharashtrian breakfast. It is salty, spicy, with a little zing and a lot of flavor. The dish consists of "poha," known as flattened rice, and most commonly, onions, potatoes, and various Indian spices, finished with a squeeze of fresh lemon.
Despite both potatoes and flattened rice being in the dish, alu poha is a surprisingly light breakfast. The inclusion of green chilis helps add a little kick, which is offset by the acidity of the lemon.
2 – Dosa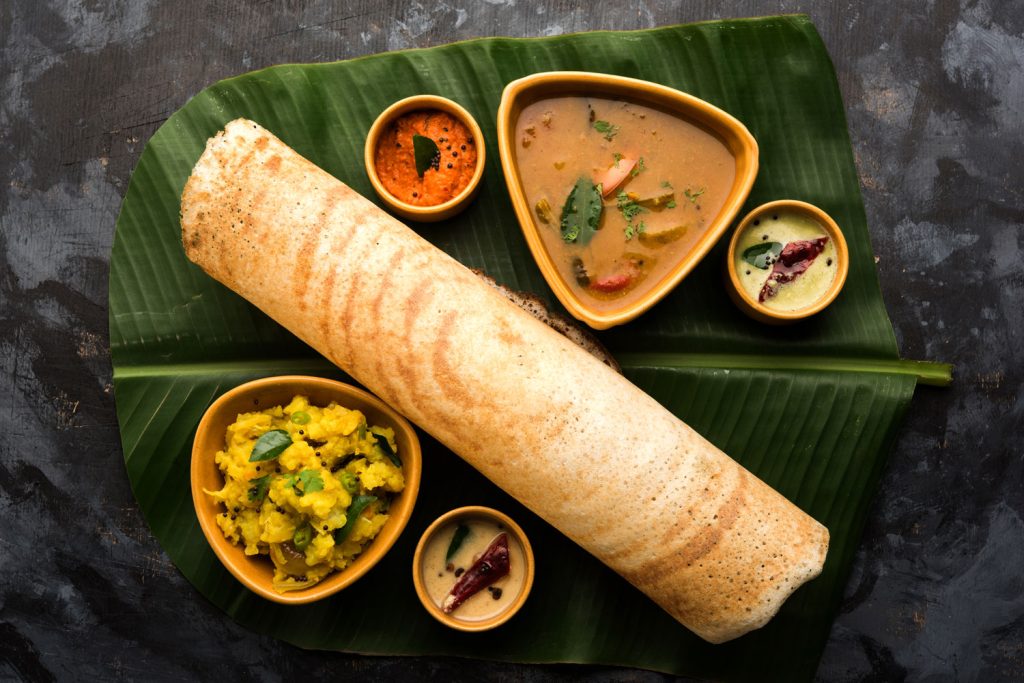 Dosa is undoubtedly one of the kings of Indian breakfasts. While most historians believe dosa came from the Udupi cuisine of Karnataka, there is still debate that it originates from Tamil Nadu. What is indisputable, however, is that dosa is now beloved and enjoyed throughout the entire country.
Made from a fermented rice and lentil batter, the simple dosa is cooked on a hot pan with oil, most often sesame oil, until it cooks into a delicate and tasty crepe.
The true magic of the dosa, however, lies in its accompaniments. It is most often paired with sambar, chutneys like coconut, onion, tomato, peanut, or even mint, spicy "idli" powder called "milagai podi" or "gun powder," jaggery, and even sugar.
What makes the dosa so popular is that it lends itself to so much customization. Masala dosa, for example, is a dish of dosa stuffed with spicy potatoes, while mysore masala is coated with extra chili powder, making it the ideal choice for anyone that loves breakfast with plenty of kick.
Ghee roast, rocket dosa, or fluffy kal dosa, which pairs nicely with chicken curry, are also some of the wide takes on dosa you can try and enjoy across India. Get creative, and have plenty of fun with this food!
3 – Idli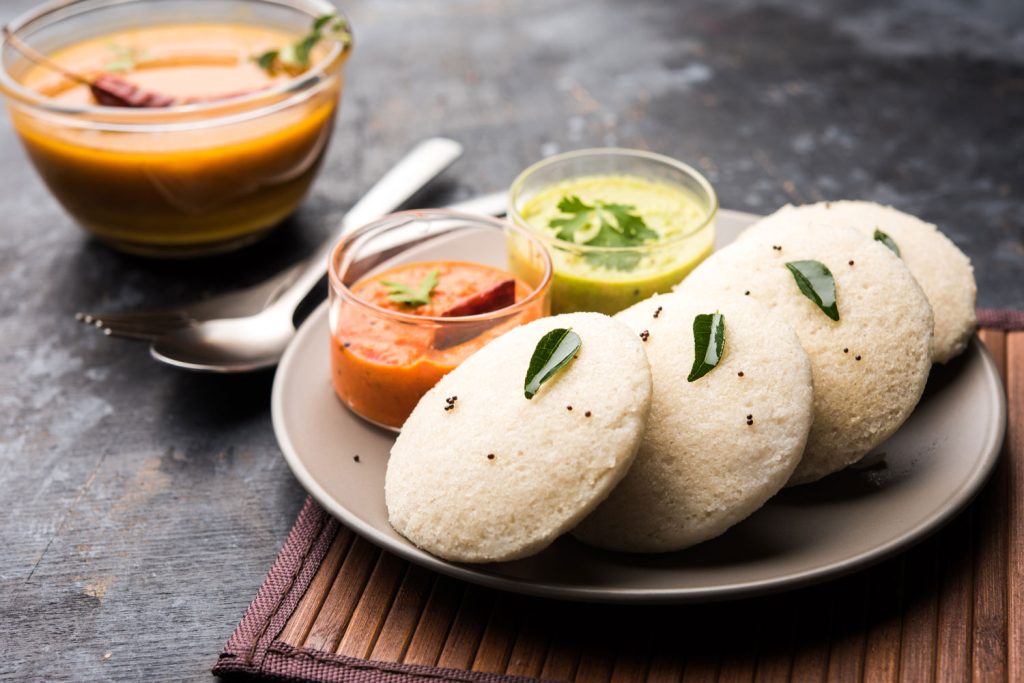 Idlis are super soft, cloud-like rice dumplings, steamed to fluffy perfection and eaten with an assortment of chutneys and/or sambar.
Idlis are made from a batter very similar to dosa, which is poured into special idli molds. The batter is then steamed, creating round, disc-shaped dumplings.
This dish is the ultimate comfort food. It is a staple in most South Indian households and a popular food at weddings, functions, and other celebrations.
The humble idli has several variations, including mini-idli, a smaller bite-sized version, rava idli, made of ground semolina instead of rice and lentils, and kanchipuram idli, which is sometimes cylindrical in shape and made with an assortment of spices such as black pepper, cumin, and curry leaves.
The origin of the idli, like the dosa, is another hotly debated topic in India. Both Karnataka and Tamil Nadu claim to be the homeland of this dish, while some historians believe that idli is said to have made its way to India from modern-day Indonesia.
Related: Indonesian Foods You Need to Try
4 – Pongal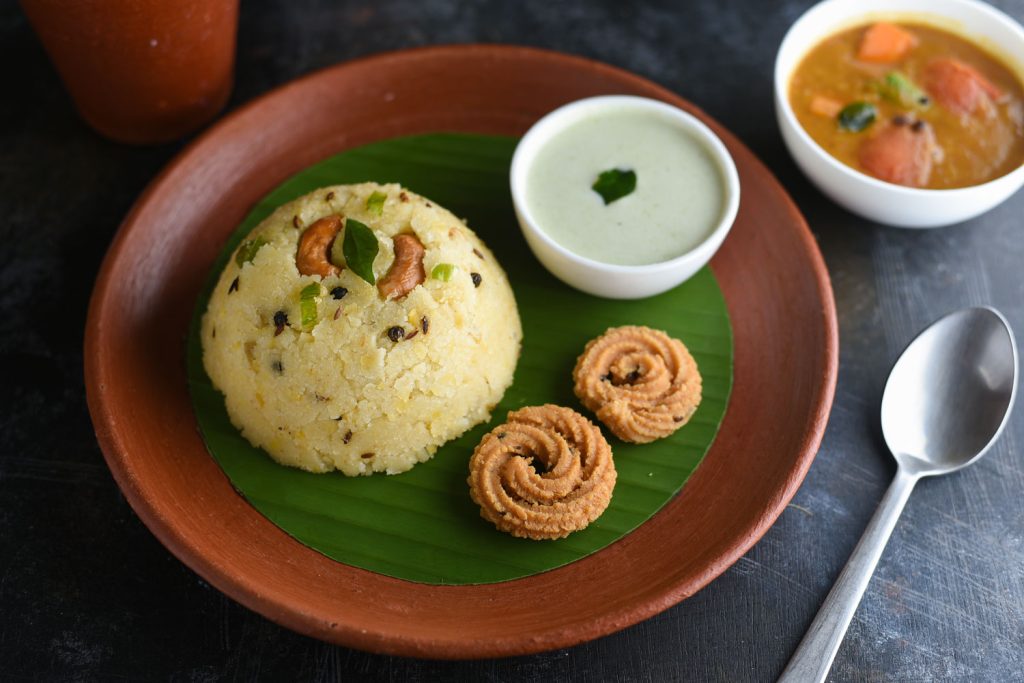 Pongal is a popular breakfast dish in Tamil Nadu. It is a dish made of rice, moong dal, ghee, black pepper, and ginger.
There are two versions of Pongal to try. One is sweet, known as Chakkarai Pongol, and the other, Ven Pongal, is savory. During the Tamil harvest festival of Pongal, not only are both types of Pongal are made, but also to the extent the Pongal bubbles over the side of the cooking cots. This is a good thing, as it signifies abundance, prosperity, and bumper crops.
Ven Pongal is often eaten with a sambar-like gravy called gotsu, made of eggplant, lentils, and spices. The ghee helps enhance the rich flavor of Pongal, while the accompanying gotsu adds a welcome amount of heft and spice.
5 – Appam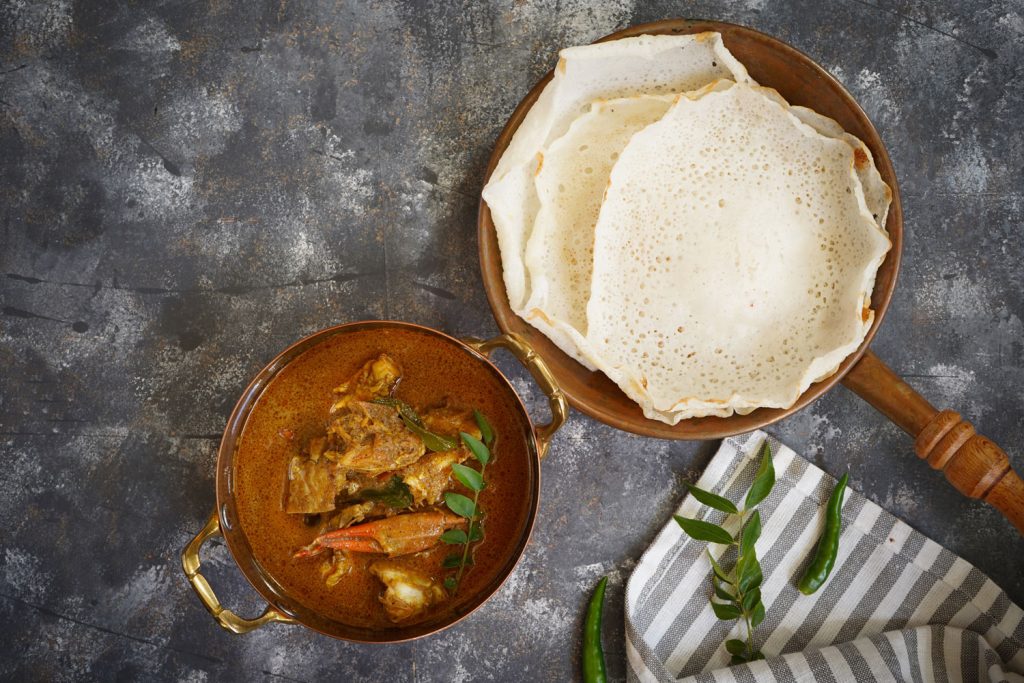 Appams, also known as 'hoppers,' are similar to pancakes and made with rice and coconut milk. An appam is essentially similar to a dosa but has upturned edges and a slightly sweet flavor.
Appams are light and fluffy and often enjoyed at breakfast with vegetable or meat stews and chutneys or coconut milk. Because they are mild and semi-sweet, they pair well with stews that often pack a punch in terms of flavor and spice.
Originating from Kerala, while these soft, airy, and delicious rice-based pancakes are soft are most commonly enjoyed at breakfast, the dish is just as sought after at lunch or dinner.
Related: Sri Lankan Foods You Need to Try
6 – Cheela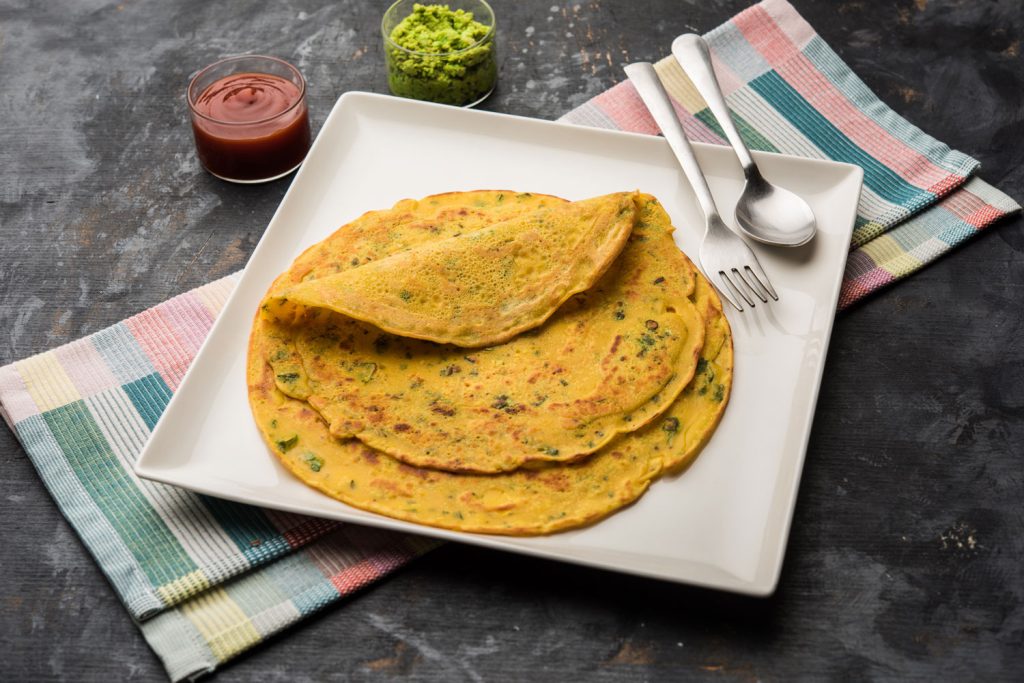 Cheela is a soft, spongy, and delicious Indian pancake made from gram flour and spices. It is often referred to as a vegetarian omelet, as it is both made with similar spices and condiments and resembles an omelet when cooked. But therein ends the resemblance.
The cheela is soft and slightly spongy, and it is delightfully flavorful. The inclusion of green chilis and ginger-garlic adds depth to the flavor, while the tomatoes and cilantro give each bite some welcome freshness.
Soft, slightly spongy, and delightfully flavorful, cheela is both protein-rich and quick to whip up, making it a great choice for breakfast or a nutritious snack. You can even throw some of your favorite vegetables into the recipe, such as grated carrots, peas, mushrooms, or beans, and enjoy it with a side dip, such as tomato ketchup.
7 – Alu Paratha
The first time I tried an alu paratha (aloo paratha), I was staying at my Punjabi friend's house. I vividly remember biting down into those delicious, hot, fluffy alu parathas, and at the time, it felt like the most glorious breakfast I have ever tried.
Nothing gets you ready for the day more than a filling, nutritious breakfast, and soft parathas stuffed with spiced potatoes, with a big wad of ghee on top are one of the best dishes in India to do it.
Mango or green chili pickle, a big dollop of cool yogurt, or a piping hot dal are all popular sides to eat with alu parathas at breakfast, while the dish can also be eaten at any time of the day, depending on preference.
8 – Puri and Potatoes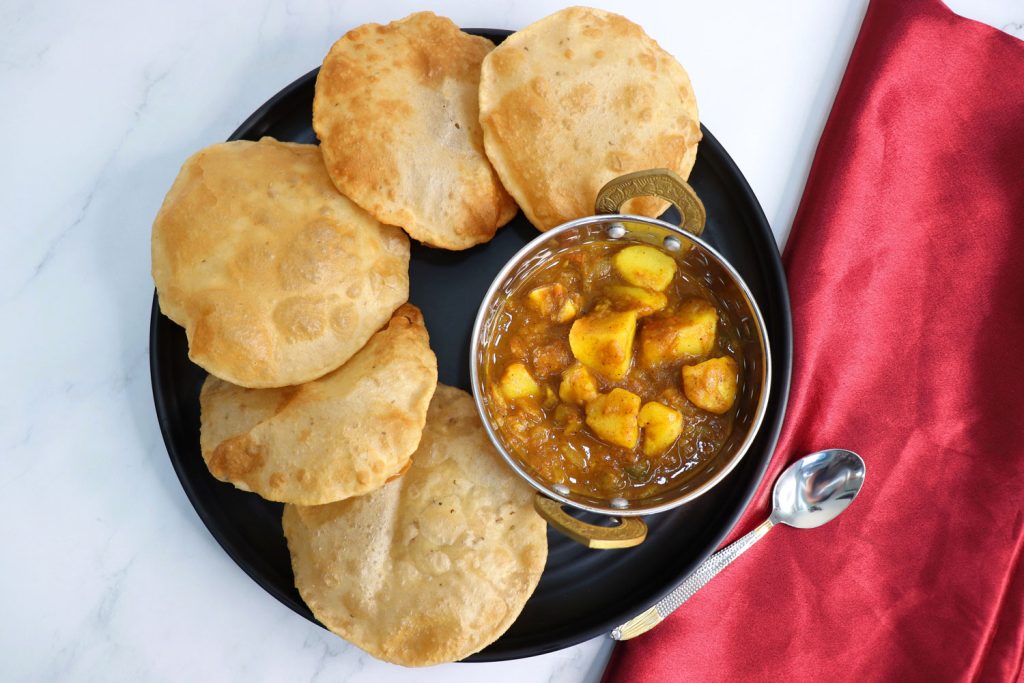 One of my fondest food memories of childhood is of eating puri and potatoes on a rainy morning when school was canceled. Ever since, it has been one of my favorite dishes to eat for breakfast.
Nothing quite beats deep-fried puris, crispy on the outside and fluffy on the inside, hot off the stove and still dripping with oil, either enjoyed with well-spiced potatoes sauteed with onions and tempered with chilis and cilantro or dipped in a delicious potato bhaji or potato-based curry.
While puri and potatoes are usually enjoyed in North Indian and Punjabi households, you can find variations of the dish throughout India, so keep your eyes peeled.
9 – Chole Bhature
Chole Bhature is a type of puri, often made larger sized than normal from all-purpose flour and a leavening agent. It is a popular breakfast dish or morning snack in North India.
The bhature dough is deep-fried until it puffs out into a crisp, airy balloon-shaped sourdough bread and then paired with chole, a chickpea gravy. Crunchy bhature dipped in a wonderfully spiced chole, garnished with diced onions, cilantro, and a dash of lemon explodes with flavor and will always leave you wanting more.
10 – Semiya Upma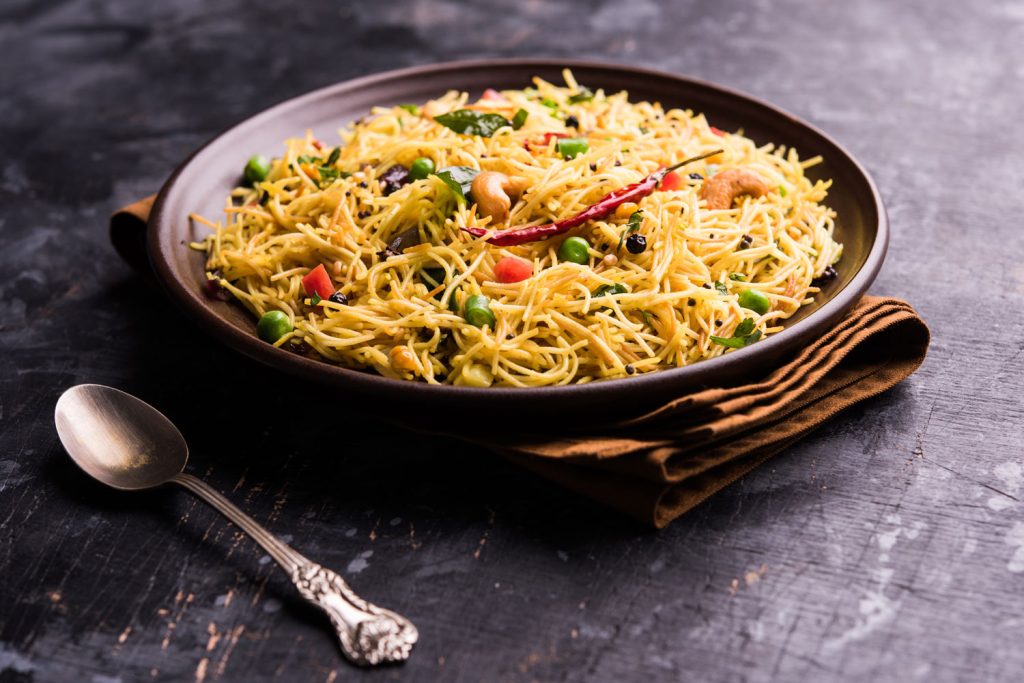 A humble breakfast dish popular all-over South India, semiya upma is made with dry roasted vermicelli that is cooked with vegetables and peanuts and tempered with crispy, fragrant curry leaves, lentils, mustard seeds, and green chilis.
While crunchy onions and tangy tomatoes are most commonly cooked with the vermicelli to make upma, vegetables like carrots and peas are a popular choice for this dish. Nowadays, Indian cooks have adapted the recipe to include the likes of cauliflower and broccoli in the upma, among others.
The noodle-like vermicelli upma is paired with yogurt, pickles, chutneys, and even sambar, but no matter your preference, semiya upma is a deeply satisfying Indian dish.
Lunch & Dinner
11 – Biryani
Fragrant basmati rice, flavorful whole spices, deep, rich spice powders, and the love of a nation – biryani has got to be one of the most beloved Indian rice dishes in the world. It has a wide range of variations, a slew of cooking methods, and an assortment of flavors. Dum biryani and Hyderabadi biryani are the most popular biryani dishes, both intensely spiced and slow-cooked for mouthwatering flavor.
Biryani is most often made with either chicken or lamb (mutton), but equally popular are beef, vegetable, and shrimp biryani, along with many other meat dishes. Prepared to commemorate special occasions and celebrations, besides also being an everyday staple, today there are so many different kinds of biryani from various corners of the country because there is just so much demand for it.
Like most people, I can have biryani every day and not get bored. This fragrant rice is most often eaten with raita, a kind of yogurt dip, or a meat or vegetable gravy.
12 – Bisi Bele Bath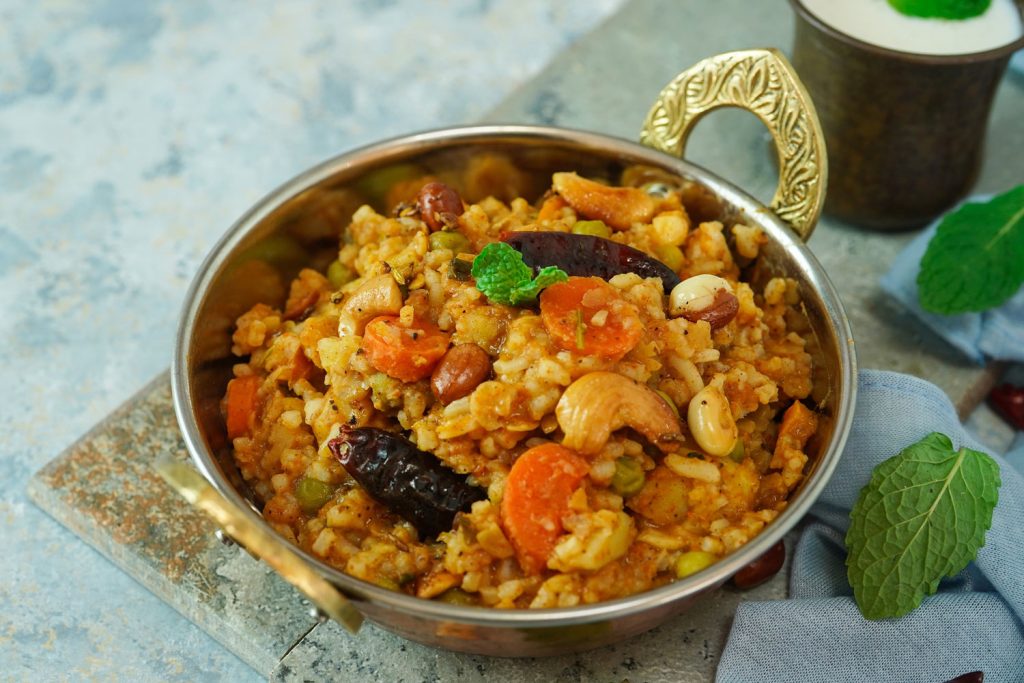 Believed to have originated from Karnataka, bisibela is a rich, nourishing, and extremely hearty one-pot rice dish made with lentils and vegetables with an assortment of ground spices, condiments, and generous portions of ghee. Bisibela is popular in South India, and while the rice and lentils remain constant in the recipe, the vegetables and even spices differ from household to household.
Bisibela bath pairs well with crispy, roasted potatoes, pappads, and raita. It is often served at South Indian weddings and commonly mixed with sambar rice.
13 – Curd Rice
Curd rice, or thayir sadam, is essentially a dish of mixed rice and yogurt (curd) mixed together. It is commonly eaten at the end of a meal to cool your stomach after all the spicy food that came before. Curd rice is found all over South India and is especially popular in Tamil Nadu.
This is comfort food and its finest and most nutritious. While in most homes, curd rice is often just a dish of yogurt mixed with rice, it is not uncommon for it to be enhanced with various flavors. It is very often tempered with curry leaves, red chilis, and asafetida.
What can make this dish even more fun is when fruits make their way into the recipe, though it is not to everyone's taste. Pomegranate seeds, grapes, and even cucumber are often cut and added to curd rice.
There is nothing quite as delicious as a cool, soothing spoonful of curd rice with some spicy mango pickle to go with it after eating various spicy dishes from Indian cuisine.
14 – Thali Meals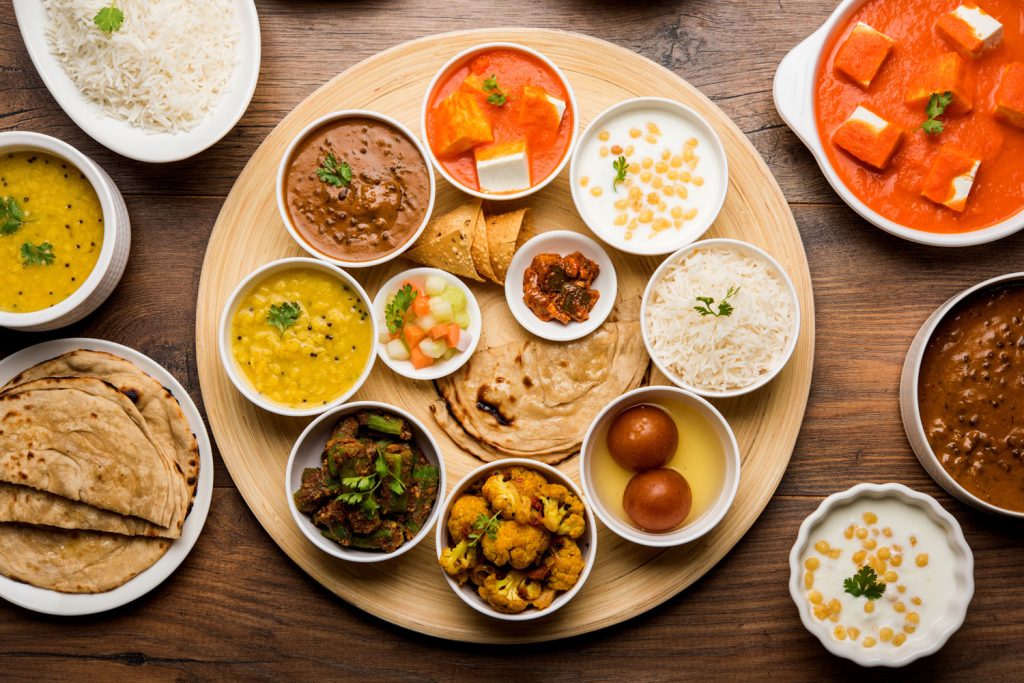 Thali meals are a platter of various foods, often eaten for lunch, including starters, mains, and desserts. "Thali" means "large plate" in Hindi, and in a conventional thali meal, various kinds of food are placed in small bowls and arranged on the plate or thali.
A thali meal usually consists of one portion of rice, Indian breads such as puri or chapathi, a lentil gravy such as dal, sambar, kootu, or bhaji, a korma to accompany the Indian bread, a spicy gravy such as kuzhambu or butter chicken, a dry, sauteed vegetable, a fried meat or vegetable dish, pappads, raita pickle, and any kind of Indian sweet to finish.
Thalis can be either meat-based or vegetarian dishes, including a special seafood thali, and can have anywhere from five to over forty food items, which is are almost always unlimited. Every part of India has its own type of thali, and they all have very detailed menus. If you are really hungry or have a hankering for a little of everything, definitely go for thali in an Indian restaurant.
15 – Indian Breads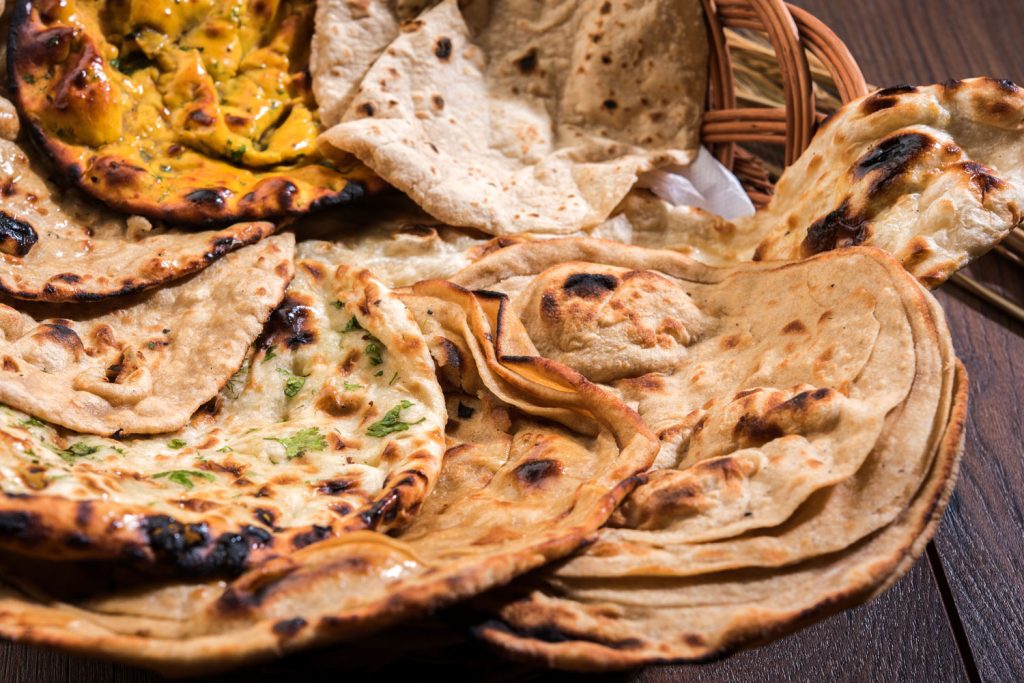 Most people are familiar with the naan, but Indian breads are so much more than that. While Southern Indians are predominantly rice eaters, in the north and west of India, wheat is the staple, hence the popularity of Indian breads.
From humble chapathis and kulchas to exotic romali rotis and parathas, and back to simple parottas and naans, there are so many types of Indian breads, each with its own unique flavor and style of cooking.
Romali rotis are thin and delicate, while parottas are flaky and dry. Parathas are stuffed and flavored while chapatis are soft and tender. However, all Indian breads have one thing in common: you have to eat them with your hands, tearing away pieces and dipping them in your favorite gravy, masala, curry, dal, yogurt, pickle, or vegetable.
16 – Dals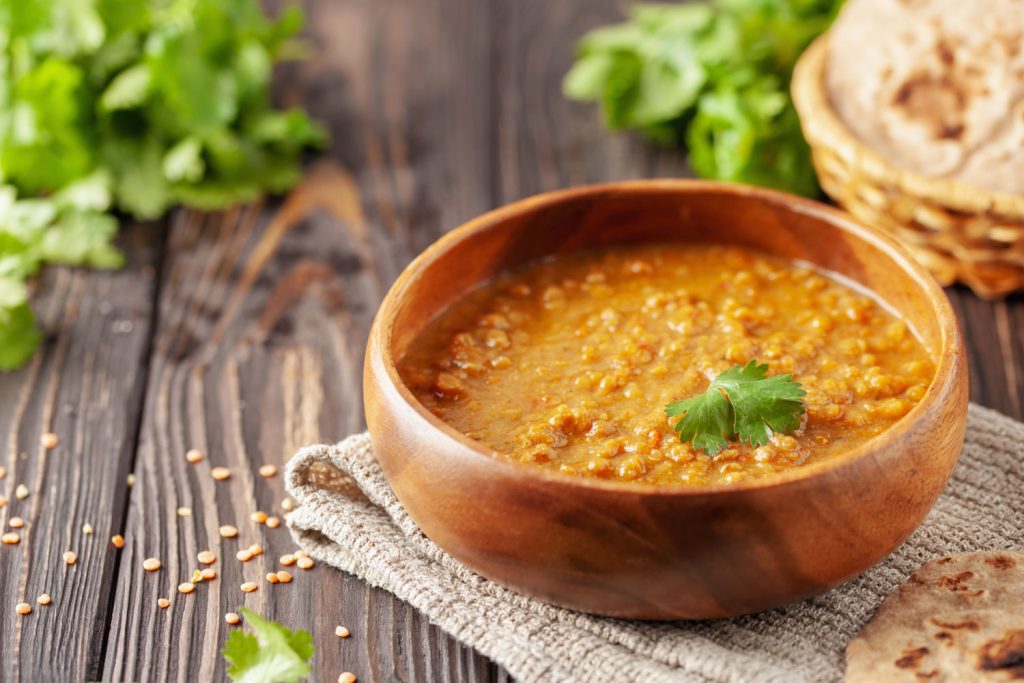 Arguably one of the most famous Indian dishes, dals are just as plentiful as Indian bread. So much so, each part of the country has its own take on the dal, with its own accompaniment, unique flavor profile, and style of cooking. From the tomato pappu of Andhra to Rajasthani panchmel dal to masiyal in Tamil Nadu, there is a delicious dal to be had in every part of India.
Not only are there are various ways to make dals, but so many kinds of lentils are used in this dish. Masoor dal, Bengal gram, green moong, toor, moong, black gram and so many others all play their role in making dal one of the most delicious and nutritious popular Indian food dishes. Dals are generally spiced, ranging from mild to hot, tempered, and well flavored.
17 – Indian Gravy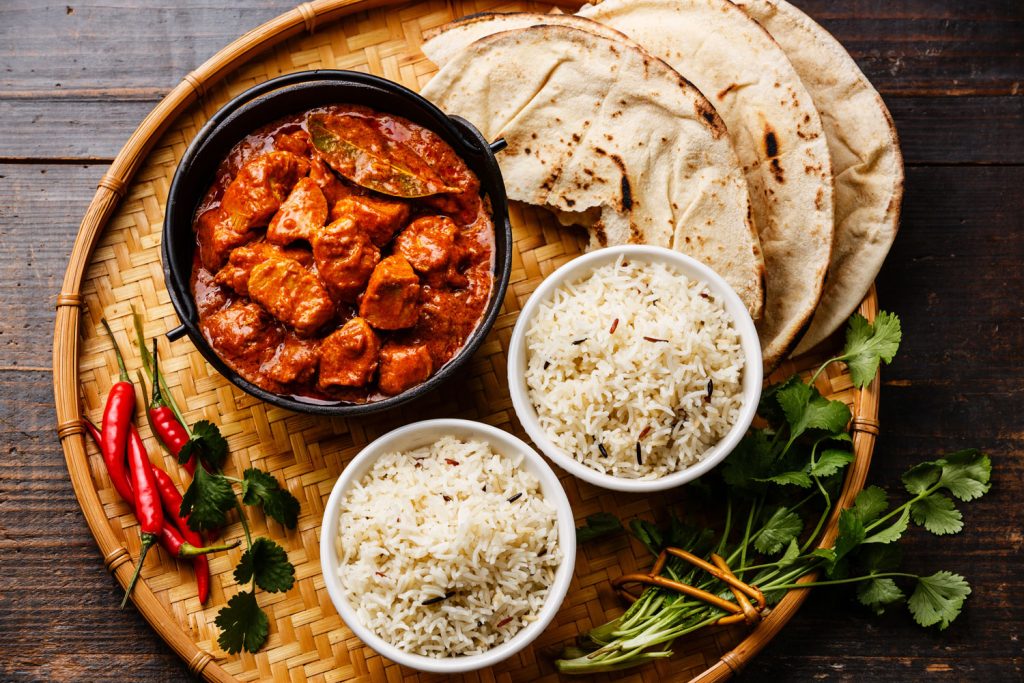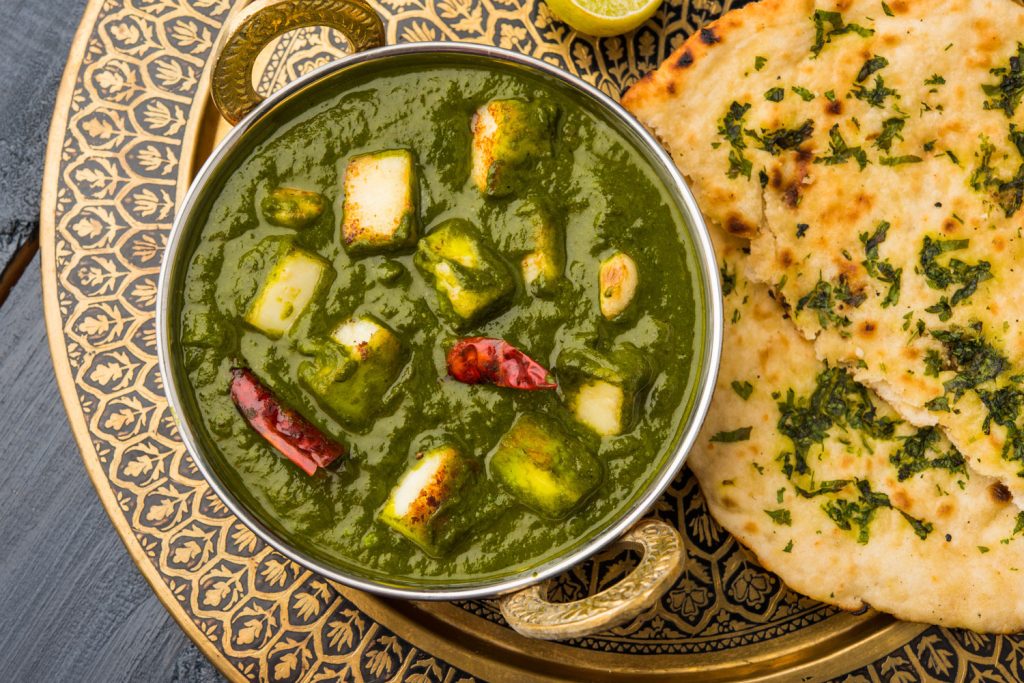 In Indian cooking, "curry" very rarely refers to the Indian gravy known by the Western world. In fact, "curry" in India can refer to various vegetables, meats, and gravies. Suffice to say, there are a lot of Indian gravies or side dishes that accompany rice and breads. They can have a tomato base, an onion base, or a spinach base.
Chicken tikka masala, chana masala, korma, Kerala beef curry, palak paneer are just a few of the well-known Indian gravies. Along with a healthy mix of spice, Indian gravies either have some form of protein or vegetable and often a fair amount of ghee or butter.
Commonly spicy, Indian gravies nearly always go well with a bowl of warm basmati rice, a soft kulcha, or even some biryani or pulao.
18 – Tamarind Rice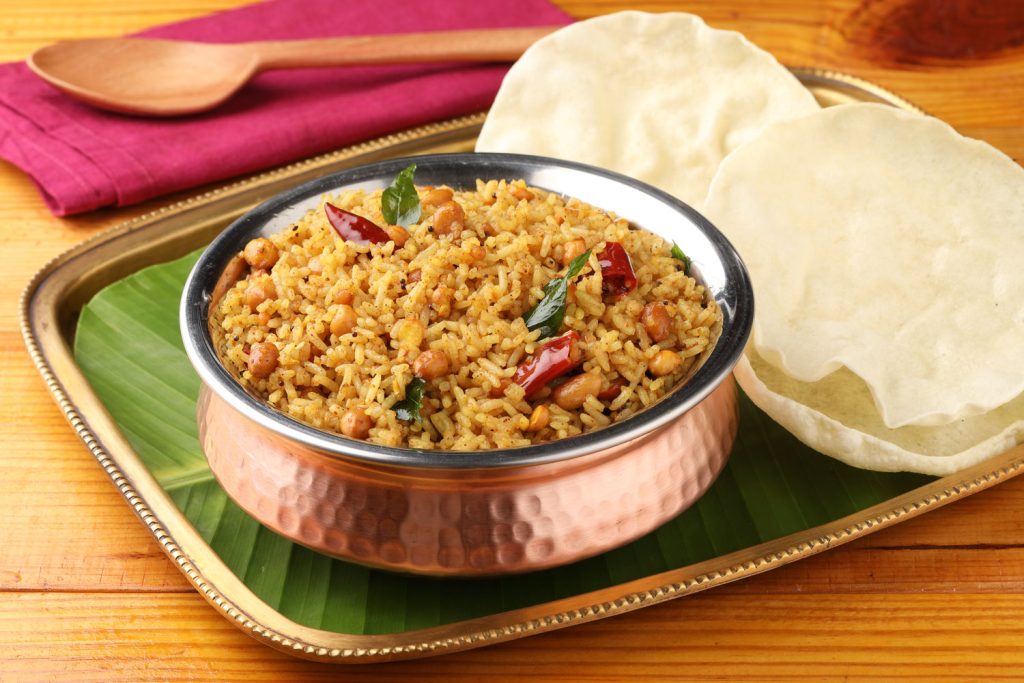 Tamarind rice, or puliogare, always takes me back to childhood, when Saturday lunches were often a simple tamarind rice loaded with curry leaves and peanuts, with a side of yogurt and lots of crispy pappads and chips. In fact, to this day, I still crave this simple delicacy and would happily eat it every single day.
Tamarind rice is very popular in all four South Indian states. Usually, it is made from leftover rice mixed with a premade tamarind paste over hot oil and any tempering of your choice, with peanuts being a popular choice.
In Karnataka, there is a tendency to add a little jaggery to puliogare to give it a pleasant dose of sweetness, while in Tamil Nadu and Andhra tamarind rice is a little more spicy. It is also often served in temples to devotees as "prasadam," a sacred offering of food.
Tamarind rice is especially popular in South India because of the abundance of both rice and tamarind in the region.
19 – Vindaloo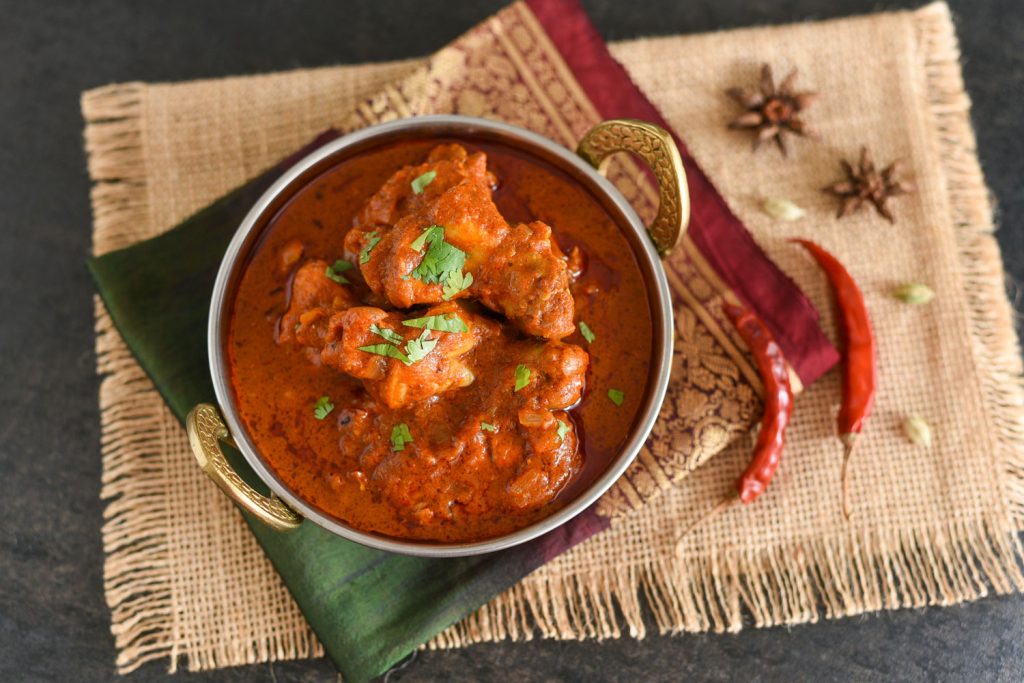 No doubt one of the most famous Indian dishes, vindaloo has become so popular that most Indian restaurants around the world serve it. Originally from Goa in Western India, vindaloo was first invented during the Portuguese occupation. It is a spicy meat dish in a decadent tomato-onion gravy that is served with rice or bread.
Vindaloo is most often made with lamb, pork, beef, or chicken, but you can also find plenty of vegetarian versions. Be warned, however, as vindaloo is known as a very hot dish. Spices including red chili powder, cumin, paprika, and cayenne all give vindaloo plenty of heat.
Vinegar is another important ingredient in vindaloo that really elevates the dish. Just one spoon of vindaloo is enough to understand why the dish is so famous for its heat!
20 – Kichdi
Kichdi is the ultimate Indian comfort food. It is a dish of rice, dal, and some basic spices. There are variations of this dish in every corner of India, and resultantly kichdi has made its way into homes and hearts all over the world.
Kichdi is made from lentils, cooked until soft, and then mildly spiced with salt, turmeric, and cumin seeds and garnished with cilantro. In its simplest form, kichdi is commonly eaten when sick to help nurse you back to health.
However, you can also add onions, green chilis, and vegetables of your choice to the dish. A bowl of kichdi feels like a warm, comforting huge, and for this reason, is one of the most popular Indian dishes. It is often served with khadi.
Indian Tiffin (Tea Time)
21 – Samosa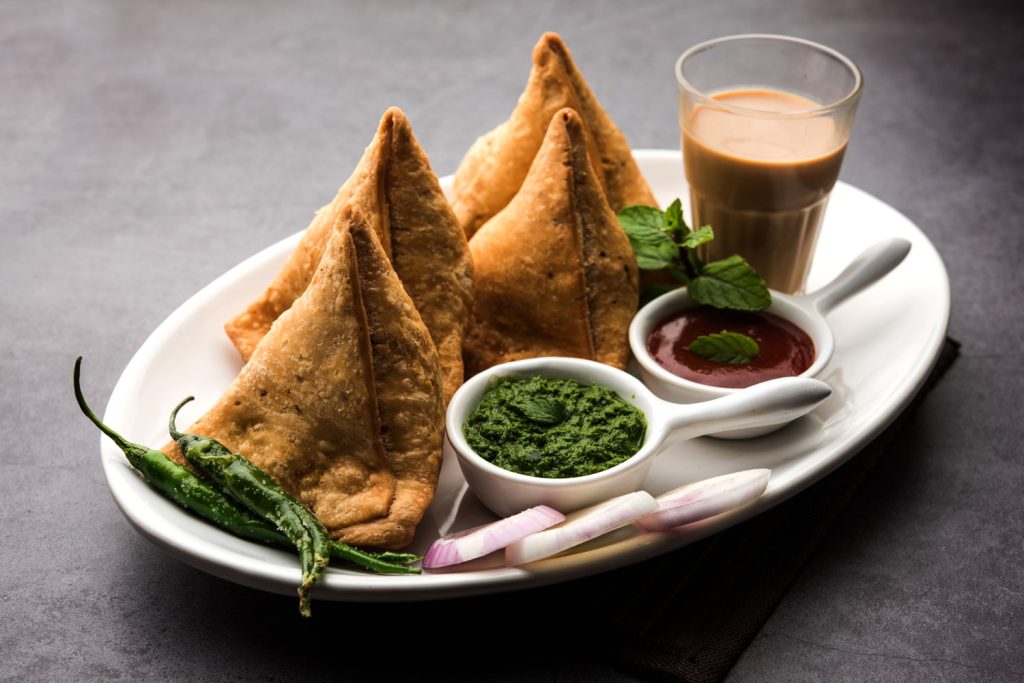 The samosa has made its way around the world, and it has become one of the most well-known Indian snacks. It is a deep-fried pastry, often stuffed with spicy potatoes, and is perfect to enjoy along with your chai on a rainy day. While the samosa is the quintessential Indian street food, it is in fact so popular it can be found everywhere, from your local street stall to the trendiest restaurant in town.
Samosas are also arguably the most common party snack or appetizer. In my opinion, crunchy, spicy samosas are best enjoyed dipped in tamarind or mint chutneys. The sweetness and lightness of the dips balance the spiciness of the fried samosa wonderfully.
While samosas are most commonly stuffed with potatoes, chicken and lamb samosas are just as popular throughout India. Be sure to try one of the best Indian dishes around when visiting.
22 – Bhel Puri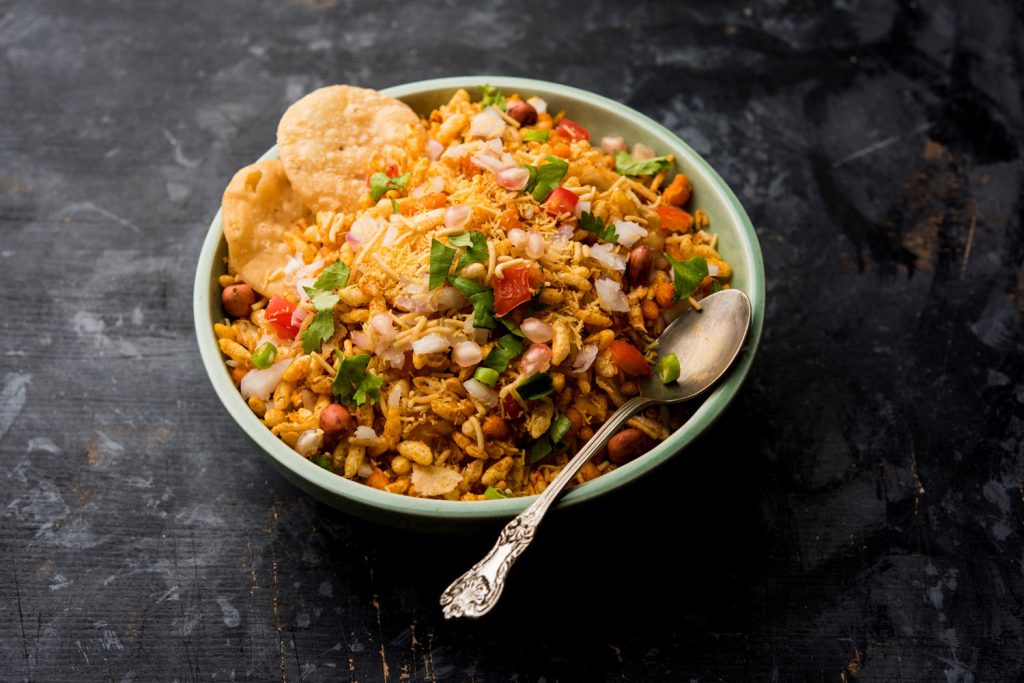 Bhel puri was my snack of choice growing up. I would have it at least twice a week as I grew up next to one of the most popular chaat shops in town.
In India, "chaat" is an umbrella term for a wide array of different street foods. It originates from North Indian cuisine, but in time spread to every part of India, from alleyways to fancy bars. Bhel puri is just one of many delicious chaat dishes you can try in India.
Bhel puri is a dish of puffed rice, onions, tomatoes, cooked potatoes, an assortment of spice powders, sweet sauce, mint sauce, and a generous garnish of cilantro and some sev, which are thin, deep-fried noodles of gram flour.
All these ingredients are mixed and served together on a tiny plate packed with flavor. In my opinion, nothing beats the taste of that first spoonful of bhel puri. It is sweet, spicy, fresh, zesty, and tangy, and always leaves you wanting more.
23 – Vada Pav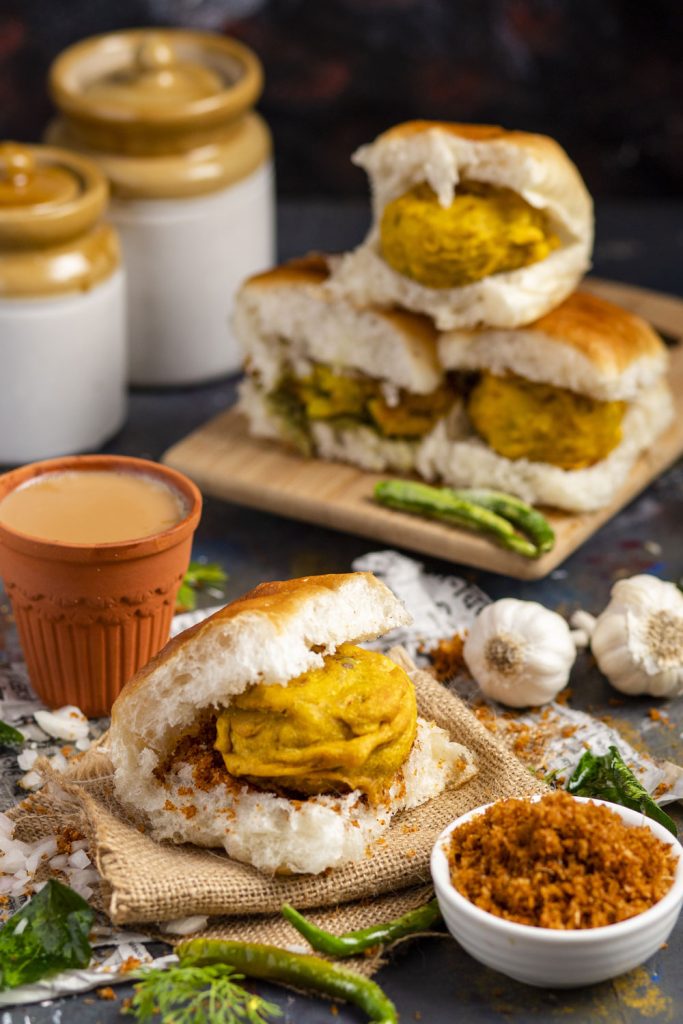 Often referred to as the Indian burger or sliders, vada pav is a Maharashtrian street food that really hits the spot. It is a deep-fried potato patty, wedged between two soft buns or "pavs," with a generous smear of green chutney or a drop of tamarind chutney. It is served with a whole green chili for extra oomph, making vada pav the ultimate chaat experience.
24 – Chilli Bajji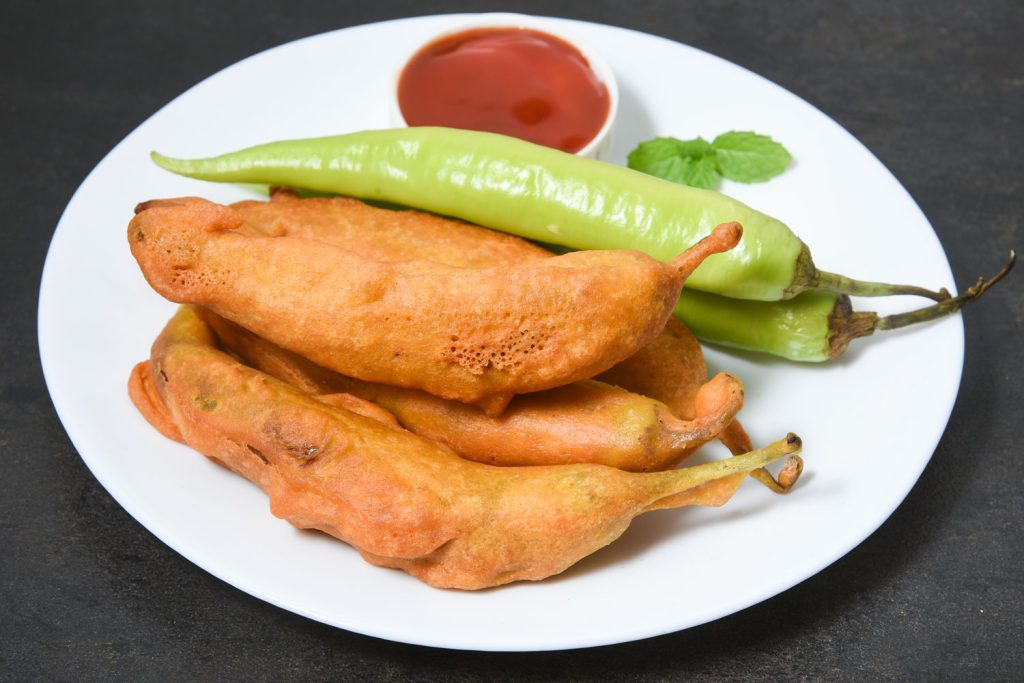 When I think of beach days in India, I instantly think of chilli bajji, better known as "milagai bajji" or "mirchi bajji". As the name suggests, chili bajji is a dish of bullhorn chilis coated in a batter and deep-fried. It is a widely popular street food, found anywhere from mountain roadsides to hot, sandy beaches.
Bunhorn chilis are not particularly hot and have a very mild kick. You can also find chilli bajjis stuffed with potatoes, cheese, or cream cheese. Chilli bajjis are crunchy on the outside and soft on the inside and can be enjoyed with chutneys, dips, or ketchup.
25 – Pakora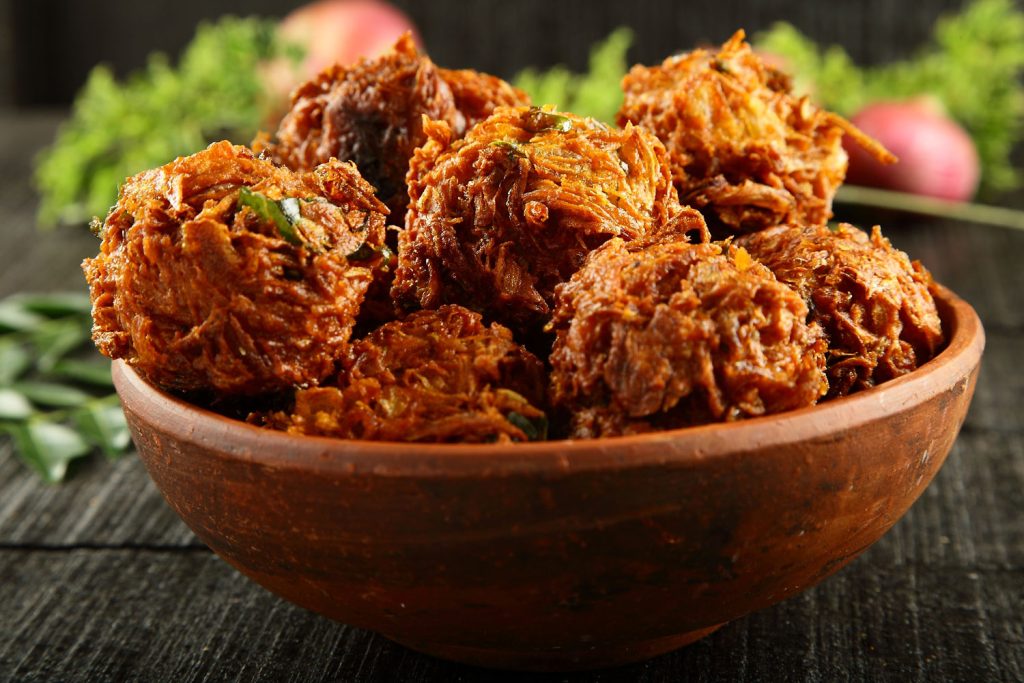 A pakora is a deep-fried fritter, consisting of various vegetables, coated in a seasoned gram flour batter. Crunchy, oily, and utterly delicious, pakoras are some of the most indulgent street foods you'll find in India. From onions to spinach, there's no end to the vegetables you can use to make pakoras.
The batter can be mild or spicy, depending on preference, but it should always be loaded with flavor. You can enjoy pakoras piping hot, fresh, and crunchy, with ketchup and chutney.
26 – Murukku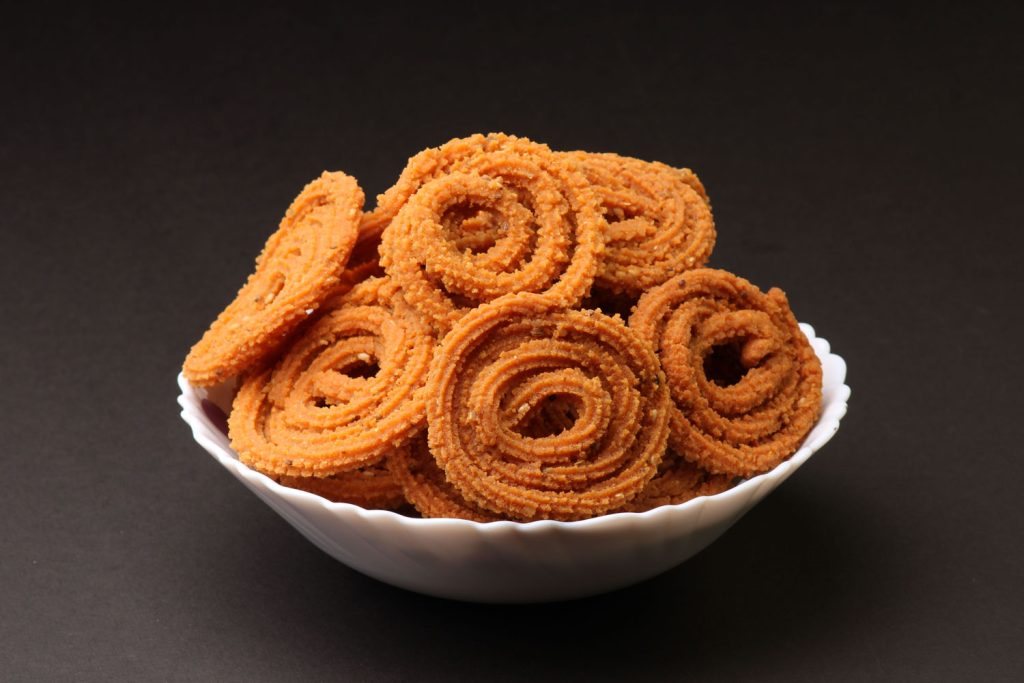 A popular dish in South Indian cuisine, the murukku is a crunchy, savory snack made from a batter of rice flour and urad dal flour, piped onto hot oil in swirls to form multiple concentric circles of fried batter.
Murukku is can be found and eaten at plenty of festivals, and the dish is also a part of most South Indian celebrations.
They are perfect for a quick mid-morning snack or to stave off hunger as a late-night indulgence. They are best eaten fresh and crunchy and need no accompaniments.
27 – Thayir Vadai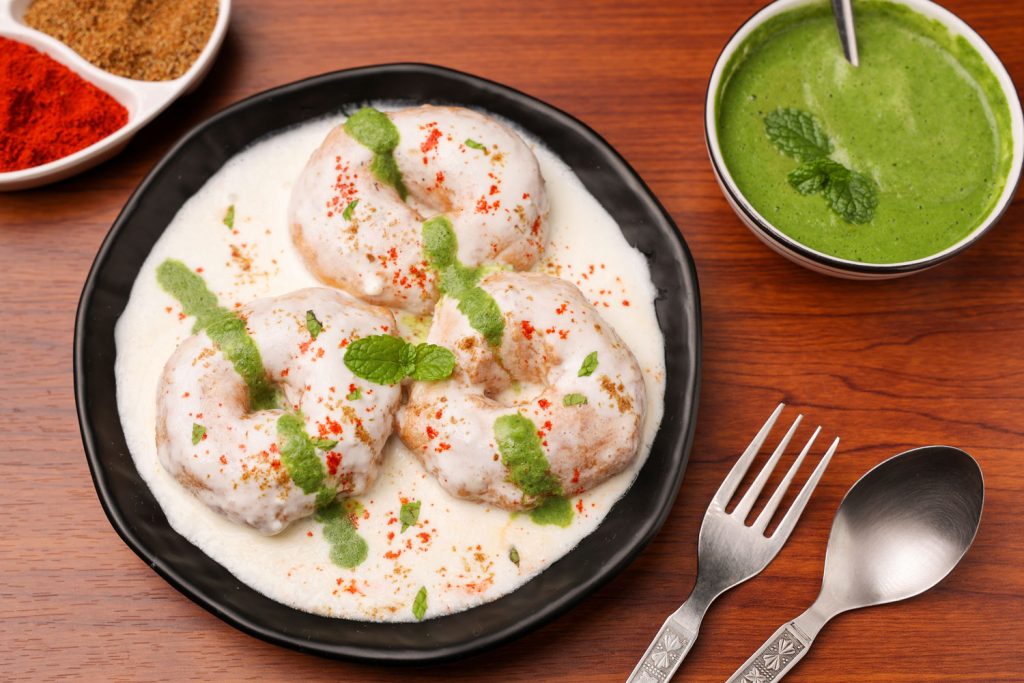 Medhu vadai is a deep-fried savory Indian doughnut. It is mildly spiced and is often consumed during festivals and ceremonies. In fact, some form of vadai nearly always finds its way into all celebrations!
Thayir vadai is vadai that has been soaked in flavored and spiced yogurt, then garnished with cilantro. The vadai softens in the yogurt bath and each spoonful treats you to a combination of the super soft vadai, the tangy yogurt, and an assortment of spices that stimulate your tastebuds no end.
28 – Momos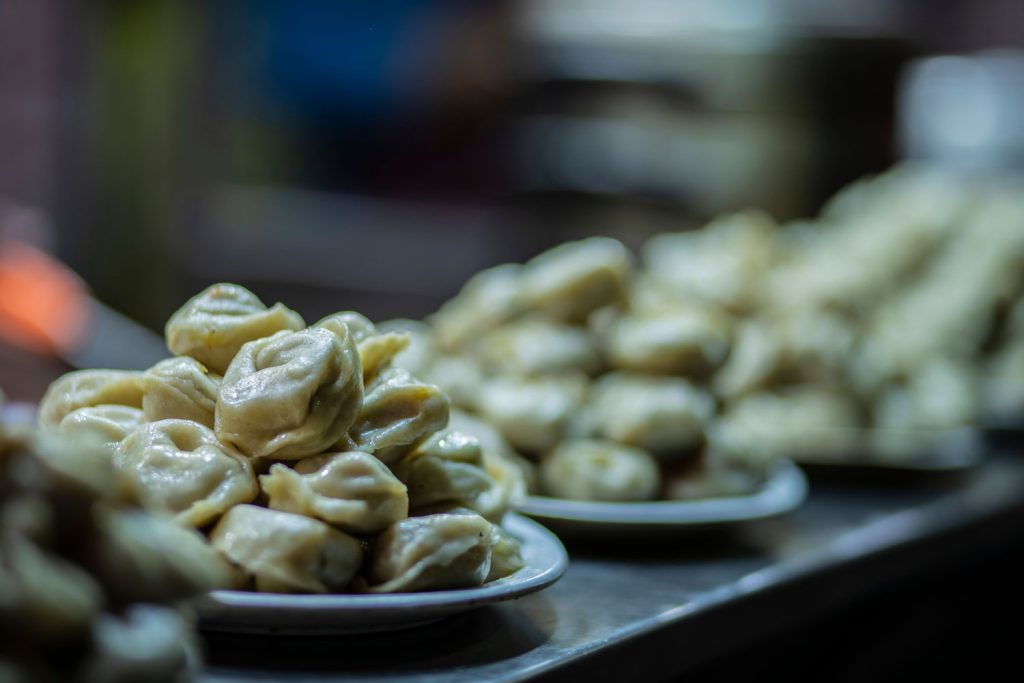 Momos made their way into popular culture thanks to Indian colleges. For decades, many famous colleges served momos in their canteens, which in time led to a huge increase in their popularity across India.
Momo is a dumpling that originates from Tibet and Nepal and is now prevalent in every part of India. It is a dumpling of dough encasing various types of stuffing. While the dumplings are commonly steamed, you can also find fried and sauteed momos.
Momos have found their way into Mumbai life and are found in restaurants and tiffin stalls throughout the city, as well as being a popular street food snack sold on busy Mumbai roads.
Momos are often served with a dipping sauce and come with many stuffing flavors, both vegetarian and meat-based depending on the vendor.
29 – Dhokla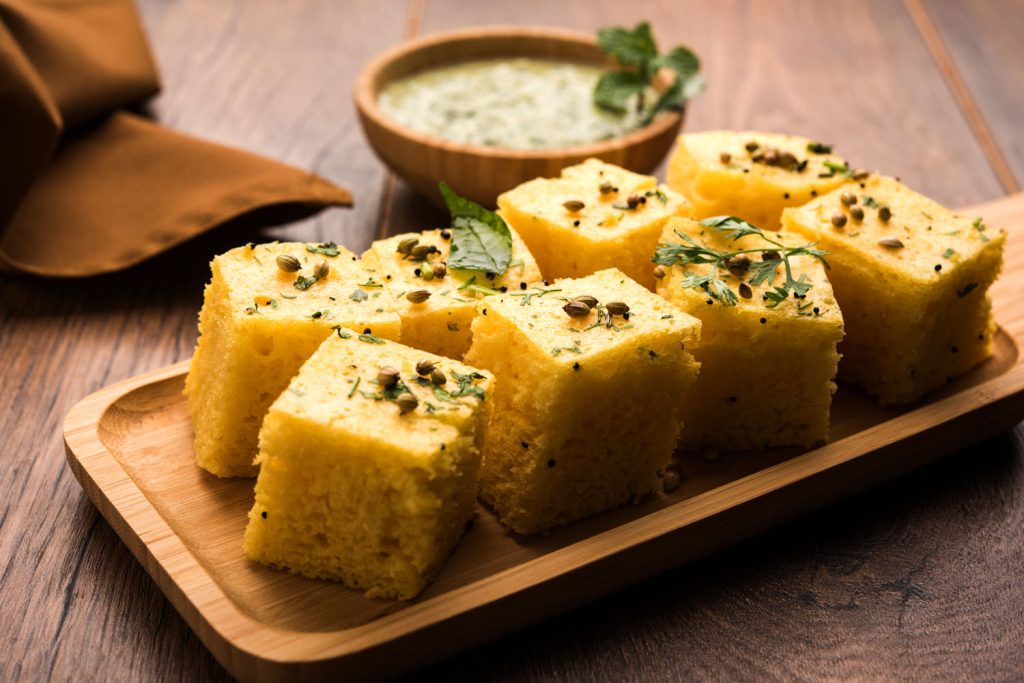 Dhokla is a light and savory steamed cake, hailing from the Gujara region, made from fermented rice and lentil batter. It is often topped with mustard seeds, coconut shavings, and chopped green chilis.
It is a soft yellow color and airy and spongy to touch. But don't get fooled by its delicate appearance as it packs a punch, not just in terms of flavor but also spice. Dhokla is often eaten with mint or tamarind dips or chutneys.
30 – Sundal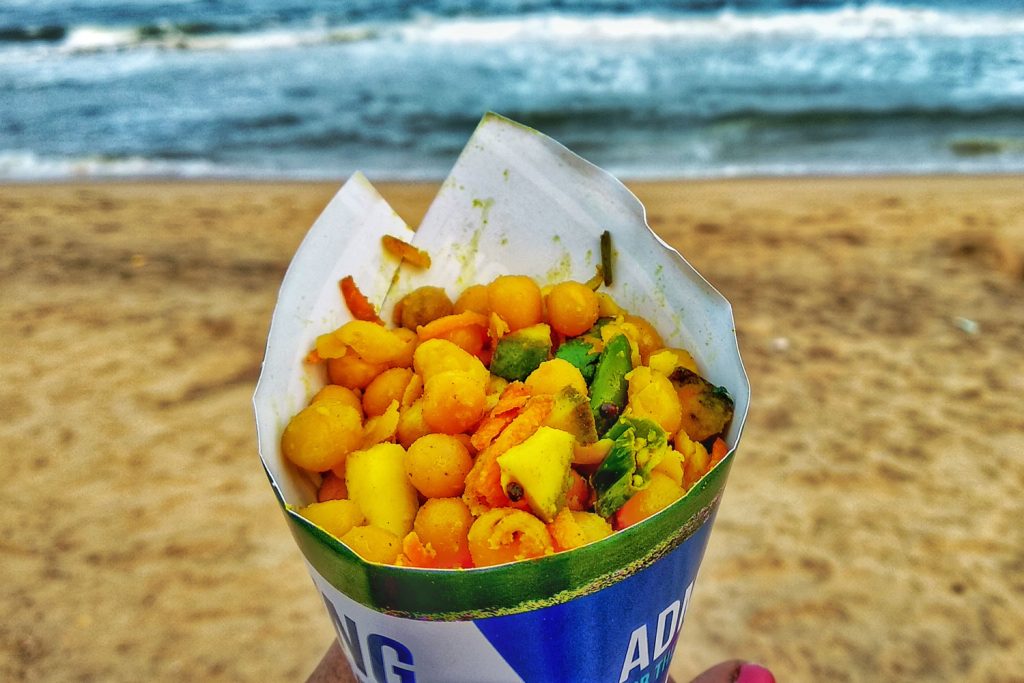 Warm, soft, crunchy legumes, a smattering of spices, a squeeze of lemon, some earthy herbs, and condiments are all you need for sundal, the perfect grab-and-go snack.
Served as a healthy, protein-rich snack during festival season, commonly served in a paper cone, sundal is that one Indian treat you just won't be able to stop eating.
Sundal is made with different kinds of legumes and lentils that are cooked, spiced, and tempered. Depending on what lentils or legumes you are using, sundal can be a combination of salty, spicy, tangy, zesty, and even sweet.
Indian Food Summary
Traditional Indian food is some of the most flavorsome, unique, and aromatic food in the whole world. Rife with vegetable dishes, spiced meat delicacies, a range of sweet and spicy gravies, curries, sauces, and dips, and some classic Indian flavors, there is simply a lifetime of food to lose your senses to when you embrace everything that is authentic about Indian food.
When visiting India, embrace the local cuisine and seek out as many of these popular Indian foods as you can at Indian restaurants, street vendors, and food markets. From fresh herbs to aromatic spices, regional cuisines to traditionally cooked classics, you truly are in for a treat that takes you on a culinary journey like no other.
You Might Also Like to Read
Save and Pin for Later
Keep these traditional Indian foods for safekeeping, ready for a future trip or a venture into Indian food, by saving this article to one of your Pinterest boards.
Contributor: Nandhini Parthib is an Indian content writer, deeply passionate about Indian culture, travel, and cuisine, who is keen to share more about India through her writing.
Images licensed via Shutterstock